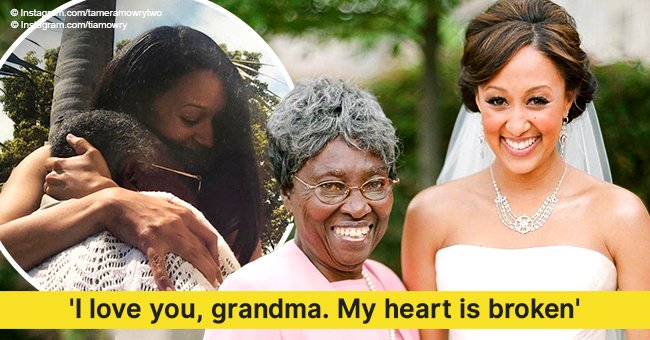 Tia and Tamera Mowry mourn their grandmother's death with touching tributes
Tia and Tamera Mowry honor their grandmother's strength and presence in their lives in touching tributes following her death.
Tia and Tamera Mowry are in mourning over the death of their grandmother who died after battling cancer. The sisters each wrote touching tributes to commemorate their grandma Clo's life.
It's a sad time for the Mowrys who are currently enduring the death of their grandmother. Each found solace in the words they put forth on social media to mark her passing.
"You amaze me everyday with your strength and unconditional love. "
TIA'S TRIBUTE
Tia expressed her sadness along with her gratitude having spent time with her grandmother before she died.
"You went on to see the Lord this morning and I'm so happy I got to see you. I thank God. I love you grandma, I love you. My heart is broken."
She accompanied her message with a photo of her hugging her late grandmother.
TAMERA'S HEARTFELT MESSAGES
Meanwhile, Tamera took to her Instagram twice to pay her respects. Her first post featured a photo of her hand holding her grandmother's. She paid tribute to the woman's strength in her caption.
"Grandma Clo ... You are the strongest person I know. You are the matriarch of our family. Every good thing trickles down from you. You amaze me every day with your strength and unconditional love. Your obedience and love towards our Heavenly Father is admirable. Love you so so so much."
She also revealed her grandmother's battle with cancer when she added the hashtag "#cancersucks" at the end of her message.
The following day, Tamera shared a photo of her grandmother standing next to her on her wedding day as she announces her passing.
"You are with the Lord now. You fought a long long fight." she wrote and bid her goodbye by adding,
"Your wish was to be around your children, grandchildren and great grandchildren. Ariah, Aden, Adam and I miss you so much. I love you love you. Till we meet again."
STILL MOURNING THE LOSS OF HER NIECE
It's been a tough couple of months for Tamera who also mourned the death of her niece in November. Alaina Housley was tragically killed during the Borderline Bar & Grill shooting in Thousand Oaks, California. Tamera and her husband were devastated upon hearing the news that the 18-year-old was one of the victims of the unfortunate event.
"My sweet, sweet Alaina. My heart breaks. I'm still in disbelief. It's not fair how you were taken and how soon you were taken from us," the television host wrote in the wake of the young girl's death.
This is probably one of the saddest holidays for the Mowrys after enduring two deaths in the family. Here's hoping there's enough light in their lives to see them through these gloomy times.
Please fill in your e-mail so we can share with you our top stories!