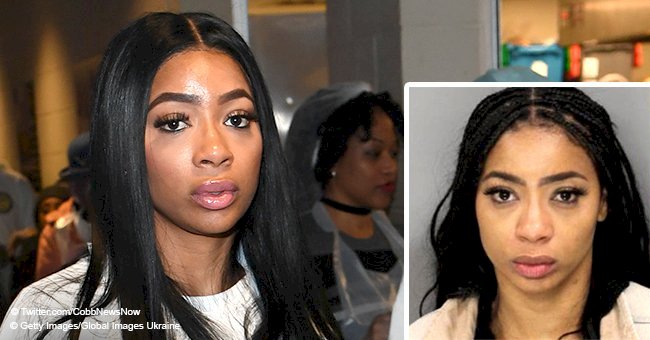 Love & Hip Hop' star Tommie Lee faces over 50 years in prison for multiple child abuse charges
"Love & Hip Hop" star Tommie Lee has found herself in hot water. She is facing over 50 years in prison for multiple child abuse charges.
Tommie Lee, star of "Love & Hip Hop" is on the wrong side of the law. The star has been indicted on multiple child abuse charges.
The details of the alleged assault on her child are reportedly horrific. According to the indictment filed by the state of Georgia Lee went to her young daughter's middle school this past October.
She allegedly disrupted the class and proceeded to slap her daughter on the hands with her purse strap. She then slapped her across the face and dragged her down the hall by her hair before she threw her into a metal locker.
Lee now faces 7 charges in the indictment. 3 of the chargers are felonies while the rest are misdemeanors.
If she is convicted on all seven counts she could be locked up for up to 54 years. Lee was arrested twice in connection to this case; first for the alleged assault then again less than 24 hours later for violating a court order to stay away from her daughter.
According to reports, she had waited less than 3 hours after being released from jail the first time before violating the court order. It's not the first time the star has had a run in with the law.
She has been in and out of jail repeatedly over the past couple of years. In July last year, she was arrested for disorderly conduct.
The notorious reality star reportedly struck a valet in the head. She was apparently under the influence at the time of the incident and was arrested for it.
She has continued appearing on "Love and Hip Hop: Atlanta" regardless of her pasts arrests. However, Lee is reportedly contemplating quitting the show.
Since she joined the cast of LHHA in 2016, the star has apparently been arrested nearly 30 times. She had revealed that most of the arrests were for violating her parole.
"Half the time I've been on probation without going to prison. Half the time I was put on probation but I was still a badass. I still would violate probation. I wouldn't do community service, so [I] guess that you get booked again and [then] you got a whole new mugshot." said Lee
This time, however, the troublesome star is facing much more serious charges. According to reports, she had to post a $27,000 bond for her bail the first time.
However, since she violated the court order, she was re-arrested at her home. Due to her violation, she was also charged with aggravated stalking and obstruction of an officer.
The mother of two allegedly refused to come to the door when police arrived and tried to resist arrest by hiding. She is now being held at Cobb County Jail without bond.
Please fill in your e-mail so we can share with you our top stories!