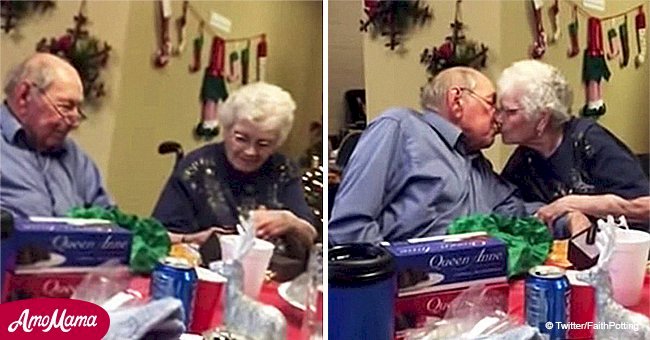 Man surprised his wife with a new wedding ring for their 67th anniversary after she lost hers
A woman still very much in love with her husband of over a decade, got touched deeply by his loving present mere days before their 67th wedding anniversary.
Pat Johnson from Illinois was devastated when her wedding and engagement ring vanished after she had taken them off due to a hand injury at the nursing home where she and her 88-year-old husband, Don Johnson lives.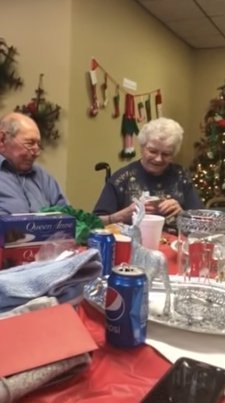 Source: YouTube/Ethel Roberts
To pull off the surprise, Don enlisted the help of two of their children, Diana, and her brother, because even after 67 years of marriage Don and Pat are inseparable.
Diana helped Don in shopping for a new wedding ring for her mother Pat, while her brother stayed with the unsuspecting Pat at home. Their cover story was that Diana was taking Don for an appointment and convinced her to stay at home while they went ring shopping.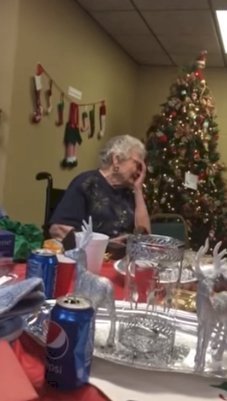 Source: YouTube/Ethel Roberts
85-year-old Pat was overwhelmed when she opened her present on Christmas. There was not a dry eye in the room when Pat finally saw her gift. A new diamond wedding ring to replace the one she had lost.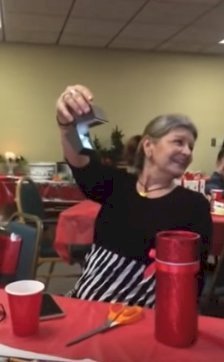 Source: YouTube/Ethel Roberts
When Pat was unable to wear her rings due to swelling in her hand, she placed them in a jewelry box on a dresser in her room at the nursing home shortly after they went missing, according to Diane. As Pat unwrapped her gift she jokingly
"I don't think this was got in the dollar store; they don't wrap up like this."
When she finally opened the box and saw its contents she got so overwhelmed with gratitude it left her speechless as she took a few seconds to digest what happened.
A special celebration of Don and Pat in love after over half a decade of marriage, but another couple also had a special celebration after loving each other for over a decade, but their story is very different.
Curtis Brewer and Barbara Cotton were high school sweethearts and dated all the way through high school. But then Barbara's mother tragically died, and she had to take care of her five brothers while Curtis went off to college.
After 50 years apart after never actually breaking up and living in different states they found their way back to each other again, as Barbara said:
"He had always loved me, and I loved him."
Like it was destined to be they reconnected on the internet and spent several years corresponding before they began meeting up only a few months ago. But Curtis did not see the need to waste any time as he said:
"Finally August the 15th of this year, I couldn't take it any longer. I called her on the phone and said, 'Would you?' That's all I got out, she said yes, would you marry me -- I couldn't get marry out."
Barbara spotted Curtis on classmates.com and sent him a message, to which he quickly responded, and the rest as they, is history as Barbara gushed:
"No one really loved me as much as Curtis loved me. It was such an unconditional loving relationship, and no one was ever able to match that."
On January 5, the couple joyously tied the knot after over 50 years of dating. And much like Pam and Don, they celebrated the true love they had for one another.
Another testament to true love comes in the form of Marcia, 100, and Arthur Jacobs, 105. One of their grandchildren, Gabe Jacobs, uploaded a video to YouTube of the couple's 80th wedding anniversary that took place in the hospital.
The deep love the couple share is evident in the clip as Arthur sat by Marcia's bedside, tenderly holding her hand and touched the hearts of everyone that watched it.
Please fill in your e-mail so we can share with you our top stories!