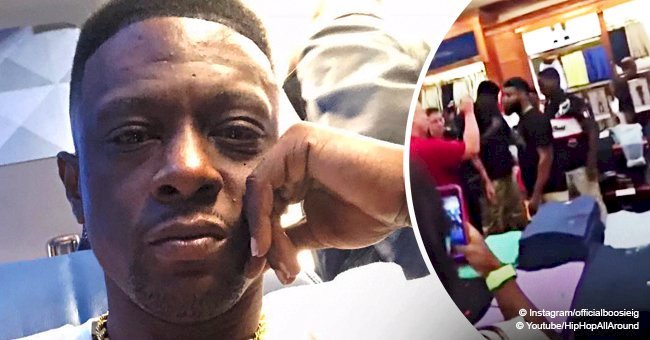 Rapper Boosie Badazz sues Dillard's for racial profiling after being pepper sprayed by white guard
"This wouldn't happen to Justin Bieber" says Boosie Badazz as he sues Dillard's for $40million after a white security guard pepper sprayed him.
The rapper, Boosie Badazz claims he was pepper-sprayed for "being black." He is suing Dillard's for $40 million after he was pepper sprayed by a white security guard who he claims racially profiled him.
According to the rapper, he was pepper sprayed by the security guard moments before a brawl broke out with members of the rapper's entourage. He was later arrested for the April 2017 incident in Biloxi, Mississippi.
It is reported that the rapper was shopping with his entourage when dozens of fans followed him into the Edgewater Mall. The large group apparently caused chaos in the mall and forced some stores to close while he shopped.
At the end of his shopping spree, he entered Dillard's with an entourage of around 20 people. Apparently, he intended to buy a shirt then leave in a waiting limousine.
They were asked to leave by the Security guard Glen Kerley as there were too many people in the store. According to the rapper, as he tried to leave, Kerley pepper-sprayed him.
Kerley called for back up. He joined a police officer in escorting the "unruly crowd" out of the mall. However, they were attacked outside the mall by Badazz's entourage.
Kerley, who was photographed bloodied and battered afterward, was beaten up by the entourage. He later sued Badazz for assault and battery which resulted in Badazz being arrested.
In retaliation, Badazz decided to sue Dillard's for racial discrimination. The rapper is also suing the town of Biloxi, Mississippi and police force claiming he was racially discriminated and profiled.
Video evidence of the incident shows Kerley pepper spraying a member of the entourage and then Badazz. The video has no audio but from the footage, one can see that the men in the entourage were not behaving violently.
The rapper maintains that he was not involved in the attack. He intends to push through with his plans to sue the town as he is now claiming that local authorities in Mississippi are now making it difficult for him to perform.
In pre-trial testimony last week, he said: "You can't blame the celebrity for being a celebrity. And you can't — you can't pick him out, you know. If I was Justin Bieber, I wouldn't have got sprayed in there. If I was another actor, I wouldn't have got sprayed·in that mall. He would have asked me to take a picture with me, if I was — if I was white, if I was a white celebrity."
The case will return to court on January 17, 2019. The lawsuit filed by Kerley will return to court in September.
In a similar incident, The co-founder of Black Entertainment Television accused the 5-star luxury hotel Eau Palm Beach for racial profiling after he was refused entry for not wanting to remove his sunglasses.
The incident which occurred in September last year saw the first black billionaire, Bob Johnson eventually left the hotel over "a silly rule" that, in his opinion, " has overtones of racial profiling."
Please fill in your e-mail so we can share with you our top stories!