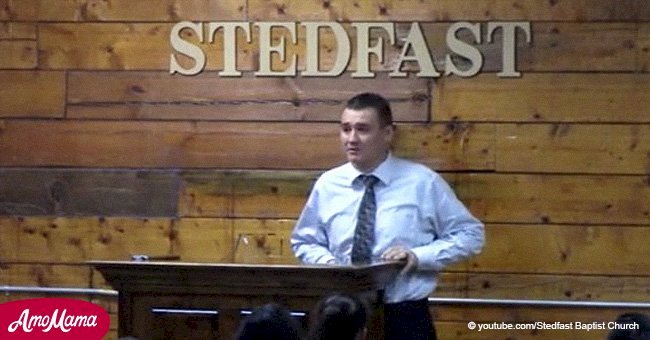 Anti-gay Baptist pastor steps down from Texas church after allegedly "being with prostitutes"
A pastor from a Fort Worth church got ousted after years of hate speech against gay individuals after his drug use, and preference for prostitutes recently came to light.
On January 2, Pastor Donnie Romero of Stedfast Baptist Church stood in front of his congregation and resigned as he tearfully expressed his thoughts.
Fort Worth police have not charged Romero with any crime and was unreachable for comment after his resignation. During Romero's announcement that got posted to YouTube, he spoke with a voice filled with emotion and said:
"I have not been ruling my house well. I have been a terrible husband and father. I'm the one at fault in this situation. I love Stedfast Baptist Church. I love my family. This is the best decision for my family and this church to make."
Stopping momentarily to wipe the flowing tears, Romero continued:
"I'm very sorry for the hurt this may cause people. I'm so sorry. I wish I would not have let it get to this point."
Steven Anderson, a pastor at Romero's former church in Phoenix, addressed the congregation after Romero's resignation and explained in detail why Romero had to step down from being a pastor as he explained:
"The major sin involved was being with prostitutes. Also marijuana and gambling were discovered."
In 2015 the Southern Poverty Law Center labeled the Stedfast church as a hate group, as Romero often made remarks stating that homosexuals should be "put to death" and that the world could be AIDS-free if only people "executed the homos as God recommends."
The video posted on YouTube had since been removed due to usage policy violations, and many members of the congregation happily chanted, "We are done with hate!" after Romero's resignation.
Pastor Anderson of Faith Word Baptist Church in Phoenix is currently helping Stedfast find a replacement for Romero and added:
"Churches frequently just cover things up. That is wrong. It's sad how it makes Christianity look bad, and Baptists look bad, but it's not right to cover this up."
Also known for his outspoken religion-based hate speech, Religious Right activist Gordon Klingenschmitt won a seat in the Colorado House of Representatives in 2014. He had since left office and failed to get another similar or higher position since.
After leaving office, Gordon poured his energy into his 'Pray In Jesus Name' program, where he continues to promote his radical views.
Gordon claims that his critics are demon-possessed, while President Trump's critics need an exorcism. According to him Democrats "serve the devil" and gay people should never become teachers "because of their immorality.
The funding of planned parenthood is also what prevents God from healing all diseases. Unperturbed by everyone's lack of enthusiasm to have him around, Gordon recently announced that he is going to run for a seat on the City Council in Colorado Springs.
Discrimination is rife everywhere as also demonstrated by a woman from Arizona that told a Porto Rican woman that all of America should be white and that all nonwhite will be wiped out.
The video had gone viral since it's posting in December 2018 and featured on a new episode of 'White people caught on camera being racist.'
If there is enough content to warrant such a program, to begin with, then its a clear indication of the state of the collective. A frightening thought to be sure.
Please fill in your e-mail so we can share with you our top stories!