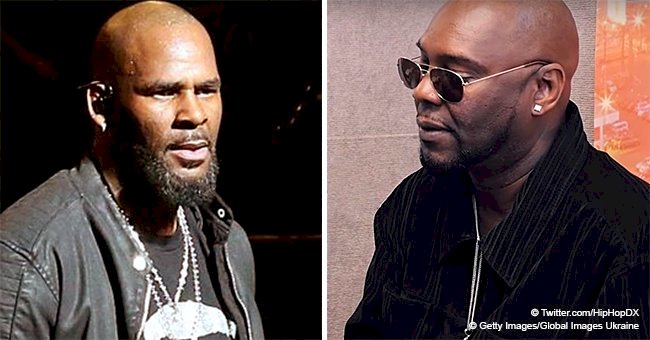 R. Kelly's brother reveals identity of family member who allegedly molested them as children
R. Kelly's brother, Carey, decided to open up about the alleged abuse his brother and him faced as children. In an interview, Carey revealed the identity of the family member who allegedly molested them as kids.
The docuseries, "Surviving R Kelly" has thrown light on many disturbing things done by rapper Robert Kelly. In the midst of fresh allegations of sexual abuse being made against R. Kelly, his brother, Carey Kelly decided it was time to speak up about their childhood.
Carey opened up and revealed more shocking details about the alleged sexual abuse the brothers suffered at the hands of a family member. He went on to also disclose the identity of their abuser.
In an explosive interview on the show "Unwine with Tasha K," Carey made the disturbing revelation that their older sister, Theresa, raped both her brothers continually for six years.
The revelation follows hot on the heels of R. Kelly's allegations that he was sexually abused by a family member while he was young. However, R. Kelly had vowed not to name the person.
R. Kelly said, "I'm not going to throw any of my people, my family, under a bus, but I feel I owe my fans at least enough for them to have an understanding of what I went through. I was molested from 7 to about 13 or 14 by people in my family… I know I became sexual at an early age because of that."
Now, Carey has come forward and revealed that he was molested by his sister, Theresa when he was around six years old. According to Carey, his sister was 15 years old when the crime first took place.
Carey said Theresa would babysit him. According to Carey, his mother was working and studying at the same time to try and give her children a better life.
When Tasha K asked Carey if he ever told his mom about the abuse, to which he revealed he had tried but couldn't find the words to tell her. He said he felt like it was a "catch 22 type of situation" because if his sister couldn't babysit them then his mother would be unable to work and support them.
In the tell-all interview, he opened up about how Theresa abused them. He claimed she would punish them for small things.
According to Carey, their punishment would be for them to stay inside the house with her. She would bar them from going out to play with the others. He revealed that she would make sure to punish only one brother at a time.
He went on to reveal that he had not spoken with his sister since their mother died a few years back. Carey went on to call out other members of his family saying that his brother, R. Kelly, is "a monster" and his other brother, Bruce Kelly, is on drugs.
It's not the first time he has called out his brother, R. Kelly. After R. Kelly had shaded him in one of his tracks, Carey released his own song, "I confess."
In the track, he disses his brother. He calls him out for actively spreading an STD and also accuses his brother of having sex with men.
"You gave them females some crazy disease want you to know Momma not pleased. Tell me how them n***as that tight and you ain't gotta wife something smells fishy, what's going on, what kinda man want to spend the night in a man home?" rapped Carey.
R. Kelly's ex-wife, who also spoke out in the "Surviving R. Kelly" docu-series, Andrea Kelly also blasted him after the release of "I Admit." She remixed one of Kelly's songs and titled "Admit It."
In the song she accused him of abuse, disappointing his mother and neglecting his children. She later posted the remix to social media.
Please fill in your e-mail so we can share with you our top stories!