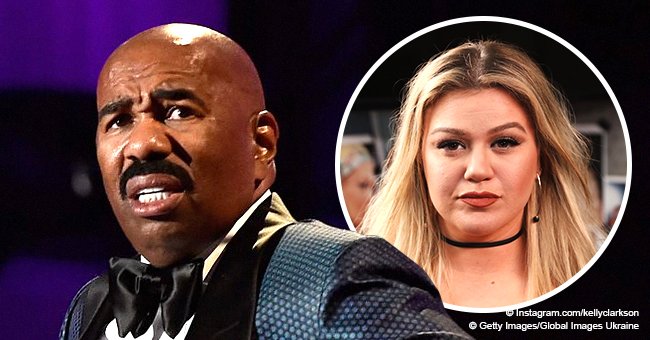 Steve Harvey hints he's leaving his talk show after Kelly Clarkson's new deal with NBC
Steve Harvey hints that he's leaving his daytime talk show after Kelly Clarkson signed a deal with NBC as his contract ends.
The famous TV personality admitted that he was caught off guard when NBC announced it would be producing a new show hosted by Kelly Clarkson that would take over his current timeslot on daytime television.
Harvey, who recently spoke at the Variety Entertainment Summit, was asked whether he was going to stay with NBC Universal or switch to another network. To this, Harvey responded saying:
"I thought I was, until they made an announcement a couple weeks ago that they wanted to give Kelly Clarkson the [NBC] O&O networks – that's my slot."
Despite not being a part of NBC Universal anymore after the end of the season, IMG, the show's top producer, says that there are numerous options on the table to keep the show running, and they are confident that "Steve" will continue to air somewhere else after the season.
The shock happened last September when NBC announced they would pick up "The Kelly Clarkson Show" from NBCU, which was set to hit television in fall 2019.
"I thought it would have been nice of them to come to me — as the only dude who's survived [in daytime TV] for seven years — about it. I gotta make announcements too. It will be something real cute."
Although Steve says that his show is what kept daytime television going for the past seven years, it is unclear to him why they decided to abruptly change his show to something else.
Nonetheless, Harvey is moving forward and is looking at more internet-related platforms which would ultimately reach more people, such as YouTube or Facebook which saw some clips of his "Family Feud" era generating hundreds of thousands of dollars.
"That's money right now. There's no delayed gratification. That money shows up now and goes into your account. I've just got to figure out how to have a damn dance-off everyday."
Please fill in your e-mail so we can share with you our top stories!