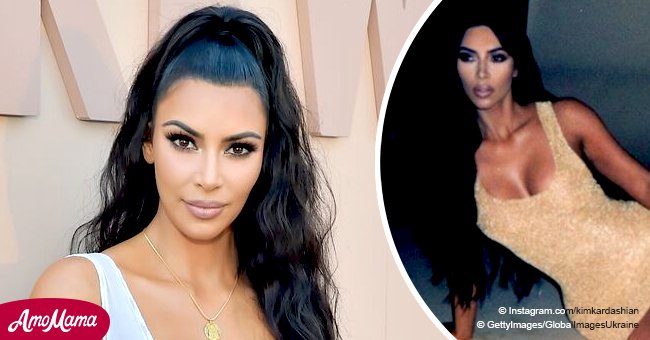 Kim Kardashian dons a tiny dazzling gold dress, putting her slender legs on full display
The 37-year-old reality TV star and model, Kim Kardashian, stunned her Instagram followers with a recent post.
Kim can be seen wearing a dazzling gold dress with stiletto heels, but she kept her fans in the dark with a cryptic message.
She simply titled the photos: "Coming soon," and fans are left scratching their heads. Many assume that she'll be launching a new project or fragrance soon.
The proud mother-of-three gave sultry looks slightly off-camera while sporting products from her makeup brand, KKW Beauty.
The two photos were taken during a photo shoot on Tuesday, but other than that, fans will have to wait for the big announcement.
That same day Kim posted a sweet throwback photo of an adorable moment with husband, Kanye West. The blurry picture shows Kanye on the cheek.
Kim and Kanye welcomed their third child, Chicago, back in January 2018 via surrogate, and are now expecting their fourth, also through a surrogate.
The couple decided to go with surrogacy as Kim struggles to conceive and suffers from a placenta accreta. Read more on our Twitter account.
It is a condition that strikes 1 in every 533 pregnancies and occurs when parts of the placenta attach deep within the uterine wall.
More than 90% of women with the condition will need a blood transfusion, and all Kim was in tremendous pain throughout her first two pregnancies.
She suffered complications during the birth of her second child, Saint. Before falling pregnant with Saint, she didn't 'think it was possible' to conceive a second time.
When she was pregnant with her eldest daughter, North, she experienced preeclampsia. The condition causes high blood pressure during pregnancy and could be potentially fatal.
It was important to Kim to pick a surrogate she could trust. She believed that a good bond with the surrogate was vital.
Kim admits that it was hard for her because she wasn't in full control of the pregnancy. She was worried that she might not be able to bond with the baby.
The starlet loves being a mom and constantly spoils the girl in her family. From trips to exotic places to miniature Louis Vuitton bags, the girls truly are blessed.
Please fill in your e-mail so we can share with you our top stories!