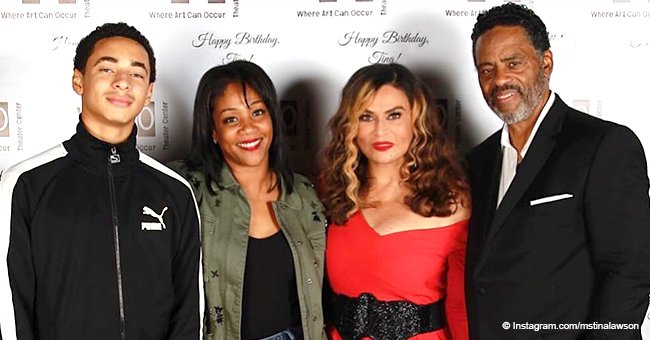 Tina Lawson posts picture with Solange's rarely-seen 14-year-old son who is now taller than grandma
Solange Knowles' rarely seen 14-year-old son stepped out from the shadows while attending his grandmother Tina Lawson's birthday party. Given that the public rarely gets to see photos of him, it's a shock that he is now taller than Tina despite his young age.
Solange Knowles giving birth at 18-years-old wasn't something that a lot of people knew about, as the family tried to keep it a secret at the time. However, now that all has been said and done, they are now more open about her son Julez, who is 14-years-old.
Tina Lawson has always been a family-lady, and this means wanting to spend time with all her loved ones on her special day. Of course, Julez had to be there, and the proud grandmother showed him off to the world in one of the photos she posted on Instagram.
Turning 65-years-old, Tina had a birthday party with all of her closest family and friends. In one photo, she stood alongside her friend Tiffany Haddish, her husband Richard Lawson, and her grandson Daniel "Julez" Smith Jr. in the photo. Of course, every grandmother knows, most especially Tina, that their grandsons are eye candy to anyone who is watching. That is why she had to remind everyone that Julez was just 14-years-old, and should definitely not be messed with.
"@mstinalawson:My handsome grandson Julez , (only 14) and @tiffanyhaddish@mrrichardlawson my birthday party."
Julez is the son of Solange and her ex-husband Daniel Smith, to whom she was married from 2004 to 2007. Although their relationship ended, they still continue to have an amicable relationship in order to raise their lovely son in the best way possible. In fact, they've been spending a lot of time together, which their son likes to document on his Instagram page.
Please fill in your e-mail so we can share with you our top stories!