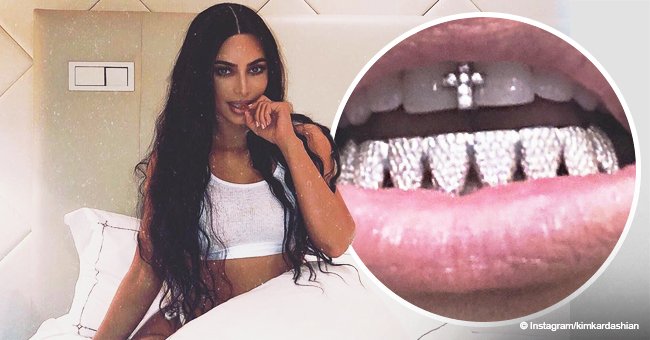 Kim Kardashian shows off latest flashy diamond grill in new photo
Kim Kardashian West, best known for "Keeping Up with the Kardashians," took to social media to share her newest diamond grill. Her followers got mixed feelings about it.
The image showed a close-up of Kim's mouth that put on full display her grills, which consisted on her lower teeth covered in tiny pieces of jewelry while a small diamond cross was placed between her top two front teeth.
For the caption, Kim wrote, "new grillz [sic]." While several people considered that it looked beautiful on her, some others took to the comment section to share their negative thoughts on her new accessory.
PEOPLE'S REACTION
"This is extremely sad seeing a person who's nearly 40 waste money on grills," wrote one user.
"Stupid so many people are homeless dogs cats need food and you spend that money on ridiculous grills for the teeth you have taken care of I just can't understand," added a second commenter.
"This is what happens when you weren't thought the good values in life," finished another follower.
While several people blamed her for buying such expensive accessories, others praised her and felt glad that she was finally adding pieces of jewelry to her wardrobe again two years after getting robbed at gunpoint in Paris.
THE PARIS ROBBERY
The incident took place in October 2016. The thieves got into her apartment with guns, police uniforms, and masks demanding for the money and the jewels that Kim had. After tying her up and pointing at her several times with the weapons, the men left with almost $10 million worth of items.
Kim changed after that incident, creating a sort of no-jewelry rule for her. However, she broke that rule in January 2018 as she took to Snapchat and Instagram to show off a grill.
As People reported, the crime "irrevocably" made Kim reconsider whatever she posted on social media. An insider, however, revealed that the "KUWTK" star would still going to be herself.
EXPECTING ANOTHER CHILD
It is not the first time that Kim has made headlines. She and Kanye are allegedly expecting their fourth child and second son via surrogate. The couple allegedly wanted to wait a bit more before announcing the big news as the surrogate mother was not in her third trimester when People broke the news (January 7).
The insider of People set clear that Kim and Kanye have different chemistry when they are expecting a baby as they are "much more into each other." They added that the couple was happy, more romantic, and more supportive of each other.
So far, Kim and Kanye have three children: five-year-old North, three-year-old Saint, and one-year-old Chicago. Not many details of the upcoming baby have been shared.
Please fill in your e-mail so we can share with you our top stories!