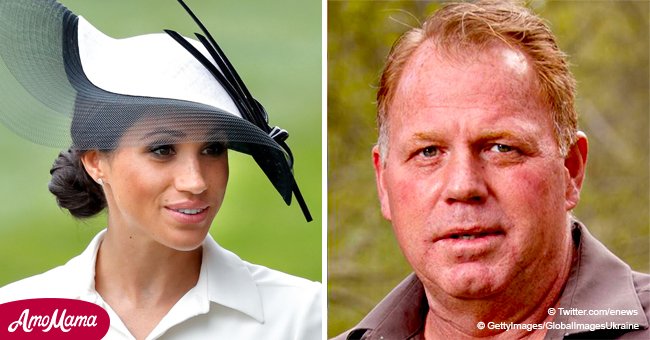 Meghan Markle's half-brother gets arrested on DUI charge, apologizes for the 'shame' he's caused
Thomas Markle Jr. got himself arrested for driving under the influence of alcohol; this was in the early hours of Friday, 11th of January, at Oregon. The Police detected a 0.11% blood-alcohol level in his system which was a violation of the 0.8% limit.
Markle, however, claimed to be detained for failing the roadside test due to health issues which had to do with his legs. He further mentioned having been caught late in the night as a result of a fall out he had with his fiancee, Darlene Blount.
The 52-year-old added that the tiff with his 38-year-old fiancee escalated after she refused to leave a bar they had been.
"We were in a bar, and Darlene refused to stop playing the slots. I wanted to go home as it was late, but she didn't."When we finally got in the car, she was furious, and the row just continued from there," - Thomas said, in his defense.
He later apologised for the misconduct.
"I am genuinely sorry for the shame this has brought on my family, and I hope they, as well as Meghan, can forgive me." - Markle
The Thomas-Darlene issue isn't new as the couple has had a series of rows and arrests. One of such was in November, last year; Darlene was picked up for domestic violence after a fight between the partners.
Amidst all these, the engaged couple plan to marry this March; and they are both hoping the Duchess will grace them with her presence.
Another time, they were both arrested for two months, after which they both vowed to give up drinking. Although they seem to be in the news a lot; Thomas and Darlene haven't been the only ones pulling stunts in the Markle family.
A while back, Meghan was said to have been upset with her father Thomas Markle Sr at the time of her wedding to Prince Harry. The father also revealed he heard about his daughter's pregnancy on the radio which insinuates everything isn't going too well with the Markle family.
Also, there was an incident when Markle's marijuana-farmer cousin had with him, a knife at a club; he got apprehended by the UK police. It was in regards to the UK law that carrying knives in public places is illegal except the blade is less than three inches.
He, however, claimed that the knife situation was because Donald Trump said it wasn't safe in London. The Markle family saga has caused some embarrassment for the Duchess of Sussex as the several social misconducts leave an adverse effect on her royal position.
Follow us on our Twitter account @amomama_usa to learn more.
Please fill in your e-mail so we can share with you our top stories!