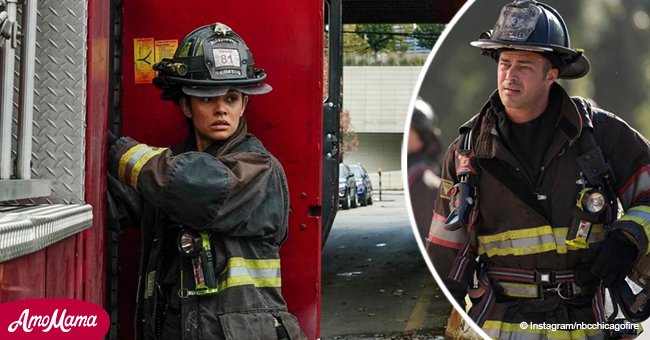 Emotional sneak peak of 'Chicago Fire' Kidd's breakup with Severide
Fans are on the edge of their seats about the relationship rumors between Stella Kidd and Severide on "Chicago Fire."
Please note, this article contains spoilers for the 11th episode of season 7. Kelly Severide finds himself in trouble after being dumped by Kidd.
Kidd explained: "Let's just get this out in the open: Yeah, Severide and I broke up. No, it will not affect our ability to work together. We're both adults; we're moving on, end of discussion."
The official synopsis as released by NBC:
"Severide's side project of fixing the boat for a wealthy acquaintance turns complicated and personal. Meanwhile, his relationship with Kidd is at a crossroads. Brett helps Casey search for a new apartment and Firehouse 51 decides to enter Tuesday in a dog competition."
Despite the veracity of her statement, Kidd was still looking for a distraction and all we can say at the moment is that it involves the firehouse's Dalmatian.
Fans will also be privy to more information about the businessman who hired Severide to repair his boat. Of course, the story is about more than just the boat.
Skeletons will tumble out of closets, figuratively speaking of course, and viewers will go on a roller coaster ride with Severide as he struggles with it all.
The preliminary Nielsen ratings were recently made public, and viewers will be happy to learn that "Chicago Fire" has a viewer base of just over the 8 million.
While it's fun following the misadventures of Kidd and Severide, lets also spare a thought for the real-life partners of the cast who have to put up with their grueling schedules.
The actor portraying Severide, Taylor Kinney, is currently dating 26-year-old Alanna DiGiovanni. He previously dated Lady Gaga for six years.
Jesse Spencer, who portrays Captain Matthew Casey is a Casanova of note. Still footloose and fancy-free but some of his past girlfriends include Jennifer Morrison, Maya Gabeira and Kali Woodruff.
The episode airs on Wednesday at 21:00 on NBC. Follow our Twitter account, @amomama_usa, to stay up to date with your favorite shows.
Please fill in your e-mail so we can share with you our top stories!