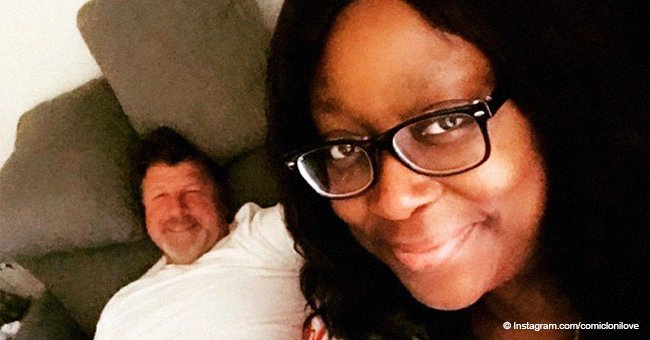 Loni Love's new boyfriend James Welsh has her rethinking her decision not to have kids
Loni love hints at a future where she has kids as she answers tough questions about her new boyfriend in a recent episode of "The Real."
Loni Love may just become a mother someday, if things between her new man, James Welsh escalate. This seemed to be the stance she took when she was grilled by her "The Real" co-hosts recently about the possibility of having children in the future.
ON HER PAST DECISION TO NOT HAVE CHILDREN
It's a known fact that Loni doesn't intend to have children. She decided on this a long time ago after suffering a painful miscarriage in her 20's. She revealed to her co-hosts in an episode of her show that she never wanted to feel that pain again.
"I had so much love for that baby. That's why I don't take it lightly. After that, I made sure I would never get pregnant again, because I didn't want to go through that. I felt like it was a person I was letting down."
NO LONGER A SATISFIED SINGLE
Loni was married once but it fizzled when he chose her career over her husband. She proclaimed herself a "satisfied single" but that seemed to change when she began dating her current boyfriend, James in the fall.
Now that things seem to be looking up with the singer's love life, the question of whether she intends to change her mind about marriage looms. If so, would she also one day rethink her decision of not having any kids?
ON HAVING KIDS IN THE FUTURE
Her co-hosts seemed to pick up on this thought when they brought up the question to her during their recent episode where they were discussing women over 40 who may be hesitant about "starting over and having a baby."
Co-host Adrienne Houghton asked Loni if she would consider having a child with James if he asked her to have one with him.
At first, Loni refused to be part of the conversation replying "Leave me out of this." But upon further prodding, Loni warmed up and gave a hint of a possibility of her becoming a mother someday.
"No, not right now. He already has children. I could still have children if I wanted to."
When asked if she wanted to have them "down the road" Loni said she didn't know and added,
"No, no, no. I probably don't want to have kids. I probably don't."
The key word in her statement was "probably" which makes her answer not a definite no. This gives hope that she may one day consider changing her mind.
A CHANGED WOMAN IN 2019
Loni has been celebrating a lot of changes in her life lately. Apart from her new boyfriend, she's also flaunting a slimmer figure. The talk show host has been on a weight loss journey for quite some time now and rejoicing in its results.
Loni's 2019 couldn't start at a brighter note with the positive things that are happening in her life.
Please fill in your e-mail so we can share with you our top stories!