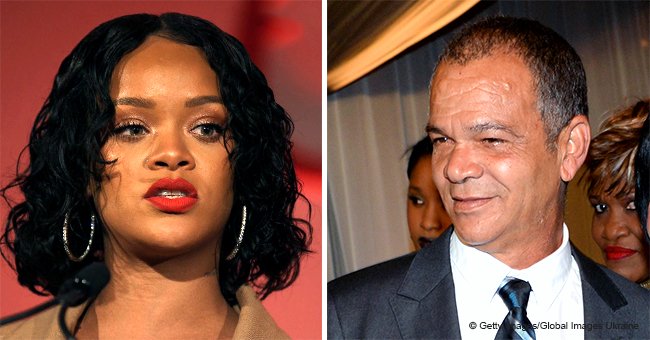 Rihanna sues her own father for exploiting her name without her permission

The rocky relationship between Rihana and her father has become a lot more complicated. According to reports, the star is suing her father for exploiting her name without permission.
Rihanna's tumultuous relationship with her father has taken a turn for the worse. The singer apparently filed a lawsuit against him claiming her dad is exploiting her name without the necessary permissions in an attempt to enrich himself.
RiRi filed the lawsuit against Ronald Fenty and a company called Fenty Entertainment. Rihanna is claiming her father, and another man named Moses Perkins created the entertainment company and have been soliciting business while posing as agents of the singer.
The star says she has nothing to do with Fenty Entertainment. The court documents state that her father has no authority to act on her behalf.
"Although Mr. Fenty is Rihanna's father, he does not have, and never has had, authority to act on Rihanna's behalf." read a statement.
The singer claims erroneous bookings made by her father includes a $15 million tour in Latin America and two concerts at Staples Center in Los Angeles and T-Mobile Arena in Las Vegas for $400,000. She says she has nothing to do with any of these shows.
She goes on to say that Ronald claimed he ran the business offers by Rihanna's actual label, Roc Nation. However, the singer is adamantly denying that Roc Nation was aware of anything Ronald was doing.
In 2018, Ronald attempted to trademark the phrase "Fenty" for a line of boutique hotels. However, he was stopped by the U.S. Patent & Trademark Office.
Rihanna insists she has sent numerous cease and desist letters to her father and his business partner. She claims they did not stop and therefore she is now forced to file a lawsuit.
The star also wants an injunction against her father and is filing for unspecified damages as well. It's not the first time the star has spoken out against her father, she once claimed he had abused her mom when she was a child.
The star is not the only person with a strained relationship with a parent. Apparently, a 25-year-old woman appeared on the "Justice with Judge Mablean" to sue her mother. The woman claimed her mother ruined her life due to her dark skin.
69-year-old Alma Johnson was in shock when her own daughter, Sandra, sued her for $600. According to Sandra, she used to work in a place for white people only.
Please fill in your e-mail so we can share with you our top stories!