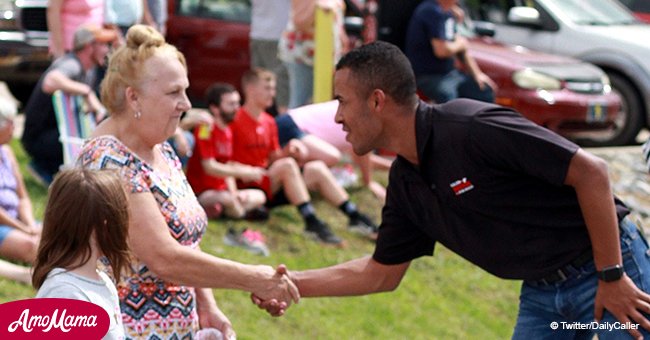 Youngest black VA legislator proposes an offer to Donald Trump for funding the border
Caleb Hanna, a 19-year-old college student, has recently made history for becoming the youngest black legislator in the United States.
Hanna confessed, during a "Fox & Friends" interview, that he was heavily inspired by Barack Obama when it comes to the determination to make a difference but stands on the opposite side of the political spectrum of the former U.S. President.
The youngster believes that President Donald Trump can really make America great again, which is why he wants to help build the wall by using a portion of Virginia's funds.
Hanna is a Christian conservative and believes God can play an important role in every aspect of a person's life.
He claims that God always comes first and that he looks to Him for guidance in "every policy decision" that he makes. Also, the freshman Republican supports the Second Amendment rights.
He would like to use $10 million out of Virginia's $200 million surplus and apply it to the southern border wall.
The 19-year-old says that people have the right to bear arms and that those who can stand up for themselves have the responsibility to stand up for those who can't.
Hanna, who describes himself as "very pro-life," ran a campaign from his dorm room at West Virginia State University based on the support of "God, guns and babies."
Hanna decided to campaign because he was not satisfied with government leadership, and promised he would try to make a difference if an opportunity presented itself.
On Tuesday's "Fox & Friends," Hanna shared that he would like to use $10 million out of Virginia's $200 million surplus and apply it to the southern border wall.
This may be good news for the U.S. President, who has repeatedly claimed that it was important to build the wall as soon as possible to stop immigrants from crossing the border.
The President's administration started a partial government shutdown on December 22, 2018 after Senate failed to come to a conclusion over Trump's demand for funding regarding the wall between Mexico and the U.S.
Trump is so keen on getting the money that he didn't even spend Christmas at Mar-a-Lago, where he usually travels to with his family, forcing the First Lady, Melania, to fly back to Washington.
Now, it all comes down to a head-to-head between House Speaker Nancy Pelosi and Trump, as Democrats refuse to give in to the President's threats just so he can fulfill a promise made during the 2016 presidential campaign.
Please fill in your e-mail so we can share with you our top stories!