'Meghan Sparkles,' Meghan Markle stuns in sequined dress for magical date night with Prince Harry
Stylish royals, Meghan Markle and Prince Harry stunned on their magical date night. Meghan wore a gorgeous sequined dress that blew fans away.
Meghan Markle and Prince Harry used their Wednesday evening trip to the circus as the perfect date night. The royal couple made an appearance at the Cirque du Soleil's Totem show at the Royal Albert Hall.
Royal mom-to-be, Meghan stole the show with her sparkly outfit. The Duchess donned a sparkling navy dress with three-quarter length sleeves and a leg slit by Roland Mouret for the night out.
Meghan Markle Sparkles in Sequins for Magical Date Night with Prince Harry at Cirque du Soleil https://t.co/C6jbTbIB7B

— People (@people) January 16, 2019
She matched the stunning dress with a clutch by Givenchy. Her final touch was a tribute to her late mother-in-law, Princess Diana by wearing a gold bracelet that had belonged to her.
Meghan switched out from her usual natural lip shade to a bold red lipstick. Harry wore a classic black suit and tie.
However, despite their stunning outfits, they skipped the event's red carpet. The performance aims to raise awareness and funds for the work it does with children and young people affected by HIV in southern Africa.
The evening though the couple made it a date night was not all fun. It began with the Duke and Duchess of Sussex meeting representatives from the charity and members of the Totem cast.
Meghan Sparkles (sorry, cant help it): A night out for the Duke and Duchess of Sussex at @Cirque for a @Sentebale charity gala
👗 Roland Mouret pic.twitter.com/BsfLr8Z0Go

— Hannah Furness (@Hannah_Furness) January 16, 2019
The evening followed a day of public royal events attended by various members of the royal family. Meghan, 37, visited the pet charity Mayhew while her sister-in-law Kate Middleton was shown how costumes are made for opera and visited the ballet, too.
Harry and Meghan attended the Cirque du Soleil on behalf of his charity Sentebale. As the show began John Monastero, an actor in the play, delivered an introduction from the stage.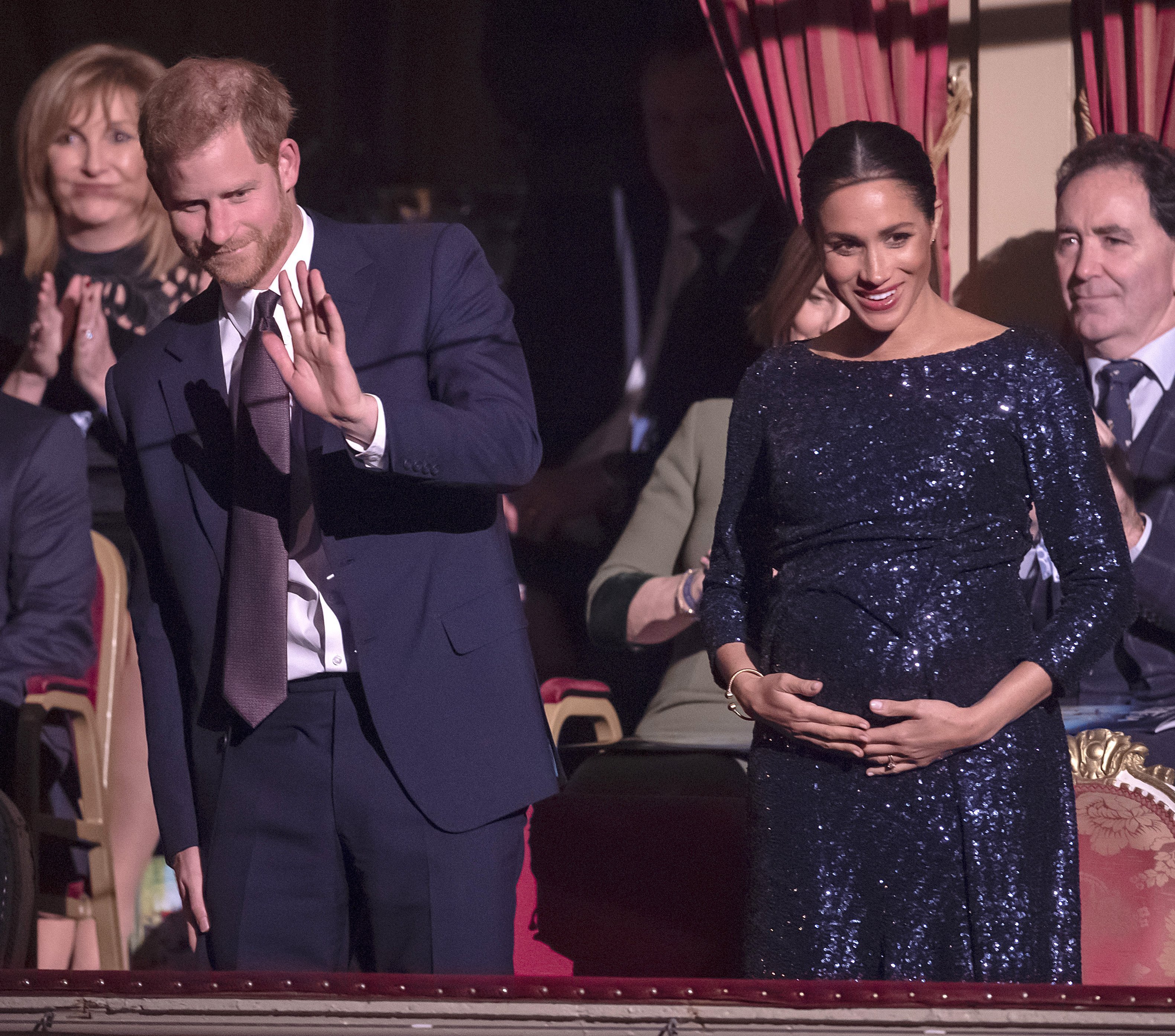 He introduced the evening saying, "Not only is it our premiere, but we also celebrate the beginning of a new partnership between Cirque Du Soleil and Sentebale. Just by being here tonight, you are allowing Sentebale to provide young people with the tools, emotional support, and the networks to lead healthy, hopeful and productive lives."
The parents-to-be were seated in the royal box to watch the show.  They stood up to acknowledge the audience who honored them with applause.
Meghan Markle Snuck in Dark Nail Polish with Another Royal Look https://t.co/xAvrgIVmzJ

— Harper's Bazaar (@harpersbazaarus) January 17, 2019
Harry set up Sentebale with his friend Prince Seeiso of Lesotho in 2006. The charity supports the mental health and wellbeing of children by running care and education programs for youngsters in Lesotho, Botswana, and Malawi to give them the tools and knowledge they need to be healthy and happy.
"At Sentebale, a large part of our educational work with children and adolescents has focused around engaging them through play, entertainment, and music," said Johnny Hornby, chairman of Sentebale, to reporters. He added, "We're very grateful to everyone at Cirque du Soleil for giving us the opportunity to shine a light on the work that Sentebale does to help children and young adults affected by HIV to live happy, healthy and productive lives."
Meghan's Sequin Gown Reminds Us of Princess Diana's Iconic Dresses https://t.co/EEFZvc67ue

— Harper's Bazaar (@harpersbazaarus) January 16, 2019
"We strive to make a difference in the lives of youths and encourage them to change the world. It is because both our organizations share these very values that we will proudly dedicate our Totem premiere to the Sentebale Nights, a perfect way to allow us to raise significant funds and awareness together," said Daniel Lamarre, Cirque du Soleil Entertainment Group's chief executive.