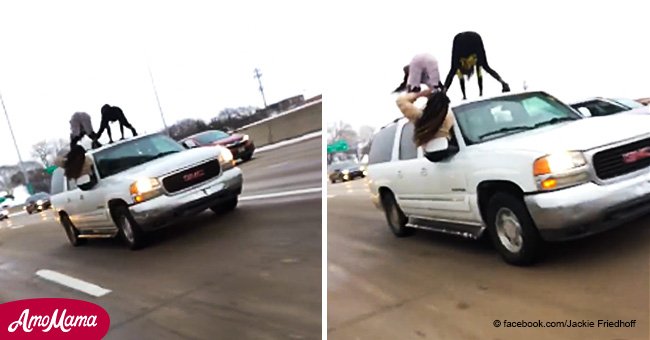 Two young women filmed twerking on top of a moving car in rush hour traffic
Often hectic traffic can lead people to frustration, such as road rage. However, two young women decided to use the high volume of people on the road to their advantage.
Two unknown women from St Louis were filmed while they twerked on the roof of an SUV in rush hour traffic on a freeway. The women who shot the event is Jackie Friedhoff.
Jackie is a graduate of Southern Illinois University Edwardsville, where she studied nursing. She now works at Washington University.
Read more on our Twitter @amomama_usa.
TWO TWERKERS
Jackie was leaving work when she spotted the two women on the roof of an SUV. They were driving along the I-64 past the St. Louis Science Center.
Two clips of the event were posted, but both are quite short. From the available footage, one can see the women pop, lock and drop it. They can also be seen twerking.
Those involved broke at least three traffic laws. The driver was driving too slow, the two women were on the roof of a moving car, and another lady was hanging out of the car window without a seatbelt on.
Jackie did not contact the police, as she thought they someone from the area would comment with the women's names.
BLUSHING BRIDE
This is not the first time that someone has twerked at an inappropriate time. In September last year, a bride took to incorporating the dance move into a performance at her reception.
Stephanie Payne, a bride from Texas, entered her wedding reception wearing a revealing black outfit, complete with thigh-high black boots and a Mardi Gras mask. Music started playing, and she began to dance.
Her dance mostly consisted of twerking followed by a front flip. The dance ended with Stephanie doing the splits in front of her new husband.
Please fill in your e-mail so we can share with you our top stories!