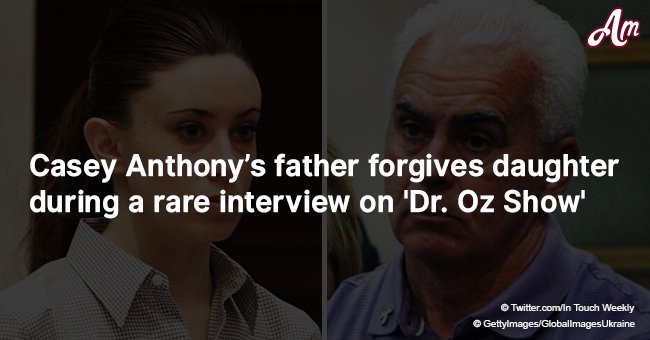 Casey Anthony's father forgives daughter during a rare interview on 'Dr. Oz Show'
George Anthony, the father of the "most hated woman in America," said that he "wants his daughter's forgiveness."
His interview with Dr. Oz from the "Dr. Oz Show" followed two months after he was involved in a car crash which "left him incapacitated."
In this rare interview, George and his wife Cindy discussed their relationship with Casey and said that they would "honestly" like to see her again.
CASEY'S TRIAL PULLED THE FAMILY APART
Casey was acquitted of the murder of her 2-year-old daughter, Caylee, back in 2011. The trail ruined her relationship with her parents.
During her trial, Casey's legal team alleged that George had sexually molested Casey, but he denied the allegations. George now wants forgiveness:
"I forgive her, and that's hard for me to say, but you know what, I need to be forgiven by her, my son and other family members or friends that I care so much about."
George broke down crying and said Dr. Oz inspired him when the latter revealed that he would cover the family's medical bills from the accident.
WHAT HAPPENED TO CAYLEE
When Caylee was two years old, Casey told her parents that she found a job in Tampa, and would be gone for weeks at a time.
Casey had an excuse every time why she couldn't bring Caylee home to her grandparents. If she wasn't "busy at work," then her car had broken down.
Cindy eventually tracked Casey down in Orlando. Cindy learned that Casey never had a job in Tampa and that she was living with her boyfriend.
Casey claimed that the 2-year-old Caylee was in the care of her babysitter. When Cindy insisted that they collect Caylee straight away, Casey said she'd been missing for a month.
CASEY WAS ACQUITTED OF ALL CHARGES
Casey's story was inconsistent, at times saying she that the babysitter refused to release Caylee from her care, at other times saying she doesn't know where Caylee was.
She was arrested for child neglect, and an investigation ensued. Caylee's body was found in December 2008, five months after she went missing.
Three years later, Casey was tried for first-degree murder, aggravated child abuse, and manslaughter. She was found not guilty.
WHERE IS CASEY TODAY?
To this day, no one knows what happened to 2-year-old Caylee. A popular theory is that Caylee accidentally drowned in the family pool.
The theory suggests that George disposed of the child's body to help protect his daughter. Casey was later found guilty of four unrelated misdemeanor charges.
She was sentenced to four years in prison but only served 12 days. In an interview back in 2017, Casey notoriously said:
"I don't give a [expletive] about what anyone thinks about me. I don't care about that. I never will. I'm OK with myself. I sleep pretty good at night."
Please fill in your e-mail so we can share with you our top stories!