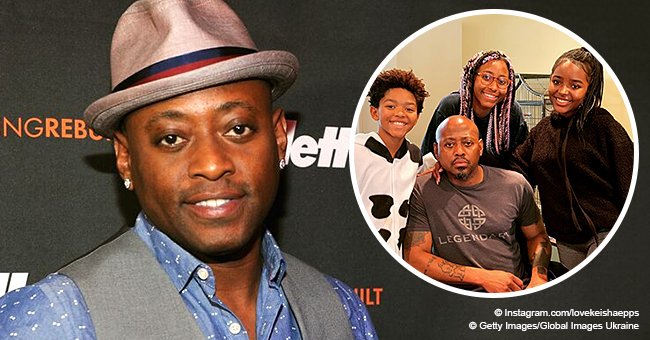 Omar Epps' wife melts hearts with rare picture of the actor together with his 3 children
Keisha Epps gushes over her "everythings" sharing a sweet photo of her husband Omar Epps and their children.
Omar and Keisha Epps are the perfect representation of #couplegoals and #blacklove. After 12 years of marriage, they still manage to harbor the feelings they had for each other from decades past.
The couple met close to close to 27 years ago but it was only 15 years later that they reconnected. In 2006, they tied the knot and sealed what would be a lifetime of bliss.
CELEBRATING "MY EVERYTHINGS"
At the start of the new year, Keisha paid tribute to the life she and Omar built for themselves by sharing a photo of her family sans her. In her caption, she relates to her husband and their three children in the photo as "my everythings."
NURTURING A SUCCESSFUL MARRIAGE
Omar and Keisha are one of the few celebrity couples who has withstood the test of time and temptation living under the public eye. The secret according to Omar is their commitment to making their marriage work.
Two years ago, the actor opened up about the single rule that keeps them together.
"For us, we just took breaking up off the table. That changed the whole dynamic of how we argue, solve problems, everything. It changes everything during the tough times."
Omar also confessed that after all these years,
"I still have that cute and innocent type of love for her [Keisha]."
Keisha seems to feel the same way. On their 12th year anniversary in February, the former Total singer showered her husband with words of love. She shared a photo of the two of them spending time at the beach and wrote,
"I still want forever with you baby. You have given me many of my GREATEST joys. Thank you babe. Even our less than a handful of downs couldn't touch our LOVE. That's LOVE. Over and over and over again...I choose you..."I do""
LOVE FOR THEIR CHILDREN
Keisha and Omar share two children together – 14-year-old K'Mari and 11-year-old Amir. Omar also has a daughter, Aiyanna, 19, whose alleged mother is Omar's ex, Sanaa Latham.
In 2017, Keisha celebrated motherhood when she shared a photo of her family of five fooling around by their doorstep as Aiyana is off to prom.
"I have had and am having the most amazing time of my life walking in the blessings of motherhood," the proud mom wrote.
"The ups the downs and the in betweens. Being present and coming out of the valley to later appreciate and understand that is was growth tugging on my existence. Seeing my family happy and pushing my kids to be their best is everything. How God has blessed me."
The children have grown through the years and some of them seem to be following into the footsteps of their parents. Except for Aiyanna who intends to pursue a career in education, the Epps children are showing talents synonymous to their parents.
Keisha, who was homecoming queen last year, sings and hopes to be like her mother someday.
Amir, on the other hand, has been appearing in commercials and has a passion for acting just like his father.
No doubt these children can rely on the guidance of their parents as they embark on their intended careers. It's more than certain Omar and Keisha will still be together by then and even more in love than ever.
Please fill in your e-mail so we can share with you our top stories!