Jane Fonda puzzles Jimmy Kimmel as she advocates for 'wall' – until she clarifies her position
When Lilly Tomlin and Jane Fonda appeared on 'Jimmy Kimmel Live' to talk about the new season of 'Grace and Frankie,' matters soon turned political.
As the two ladies started their interview with Jimmy, the topic turned political, as one may expect from Jane.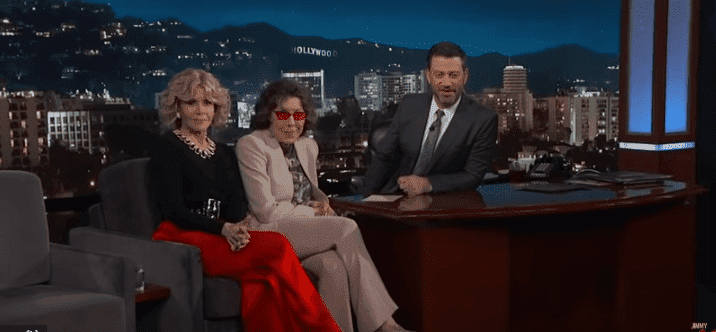 With the main subject around politics being Trump's border wall and the consequences the situation has had so far, Jane looked at the audience and Jimmy and
said
:
"Every single citizen of the United States, we need a wall. No, we do."
The audience responded with little enthusiasm for Jane's comment, while Jimmy gave a nervous laugh as Jane continued:
"We need a wall of every single citizen in the United States, a good wall that keeps the White House away from the Mueller investigation."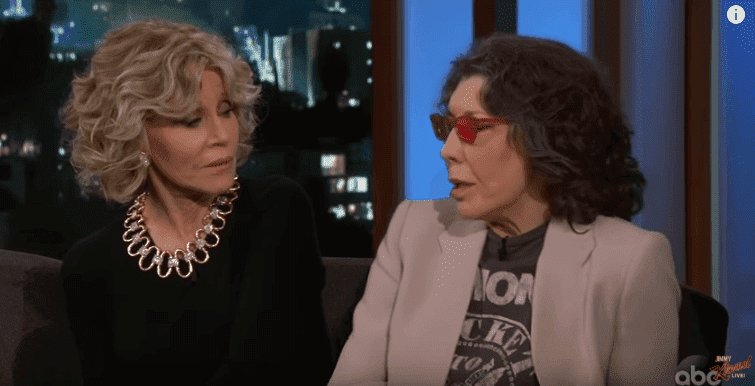 Visibly relaxing, Jimmy chuckled and added, "I got nervous for a second." Jane continued to
state
her opinion:
"And we have every single right to know what the results of that investigation are, and if there's some law that gives someone the right to edit the results, we have to change the law."
Jane Fonda says she wants a wall... to keep the "White House away from the Mueller investigation" on @JimmyKimmelLive - Watch here: https://t.co/eUl7dqSRi2

— JustJared.com (@JustJared) January 17, 2019
Calling on everyone to march for their rights and to write to their congressman, Jane added:
"A Republican in the Justice Department recently said 'Now is the time,' and he's conservative, 'for all good men and women to come to the aid for their country," Fonda said. "I don't care what party you are.  And one more thing- we can never again elect a leader who pits us against each other, you know. When this is over, we have to come together, all of us. I don't care what party you belong to."
I think you should check their interview on the Jimmy Kimmel Show, what Jane Fonda said about Trump & the wall is totally Jane Fonda & cool.

— Leyla (@alyel_ms) January 18, 2019
The audience responded with roaring applause as Jimmy nodded in approval noting that one can't argue with that.
In May 2017, the Department of Justice announced the appointment of Mueller to oversee the federal investigation that started after allegations got made that President Trump colluded with Russia during the 2016 election.
Hey! just an idea. If you want the Mueller Probe to end, just stop committing crimes already. He's already got enough to put you away for a loooooooooooong time. #Impeach45 #TrumpTowerMoscow #PutItInWriting #MuellerInvestigation

— C (@A_CueM_AN_e) January 18, 2019
Meuller's appointment came after Democrats insisted on someone outside the Justice Department handling the probe.
The investigation has already led to charges on four of President Trump's campaign associates, even though none of the charges directly link to any misconduct by Trump's campaign.
President Trump has offered in the past to testify under oath and repeatedly denied any involvement with the Russian in his campaign and called the probe a "witch hunt," and stated his wishes while at a rally in West Virginia last year:
"I just hope the final determination is a truly honest one, which is what the millions of people who gave us our big win in November deserve and what all Americans who want a better future want and deserve."
During an interview with The Cut, Jane had a surprising take on President Trump as she explained why "we have to love" him.
Jane Fonda talks the importance of forgiveness, Donald Trump, and living your life with intention https://t.co/FWiHsd2jJl pic.twitter.com/QLQDsWz2Fk

— The Cut (@TheCut) September 4, 2018
Jane explained that Trump's turbulent behavior originates for his parents that failed to protect him, which led to him hurting and likely acting out and elaborated:
"We can't forget that bad behavior is the language of the wounded, and I include Donald Trump in that. We can hate what he does and what he says, but we have to love him."
Season 5 Trailer! #GraceAndFrankie https://t.co/rvDMhDyT5f

— Jane Seymour Fonda (@Janefonda) January 11, 2019
While Jane only had interest in the movie industry during earlier years, not knowing what occurred in politics or other parts of the world, her view has changed a lot during the years. 
Now an avid political activist, Jane brings a different view to the table and said she had grown a lot as a person over the years. "Grace and Frankie" returns to Netflix for its fifth season on Friday.
Madison, I'm coming to see you @OvertureCenter on July 7th where I'll share stories from my career and answer audience questions. Use pre-sale code GRACE and get tickets now!https://t.co/GYfDlK9SDN pic.twitter.com/KgABdy7vpW

— Jane Seymour Fonda (@Janefonda) January 17, 2019