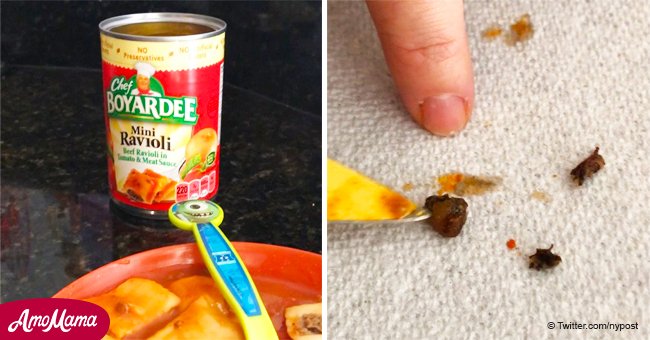 Mom disgusted at finding bugs inside a can of ravioli she opened for her toddler
Most people who eat canned are looking to satisfy their hunger without much effort. However, one woman wishes she had instead cooked her child a meal than opened a can of ravioli.
A woman wanted to microwave a can of mini ravioli for her son to eat. She spotted something black and small and decided to investigate.
Once she gave it a hard look, she noticed that it was a bug. She opened up more ravioli and saw that many of them had insects and larvae inside. Her video of this has gone viral.
Read more on our Twitter @amomama_usa.
MAGGOT MEAL
This is not the first time that someone has found bugs in their food. Last year a woman from Australia found maggots in her KFC meal.
She took to Twitter and posted a photo of the meal in a tweet and tagged the fast-food chain in it. The tweet received hundreds of comments, likes, and shares.
KFC replied the following morning assuring Anna that they are looking into the matter and take the incident very seriously. They also directed her to an online customer service form.
They claim they take utmost care to ensure no bugs are in their products despite the fly problem that occurs in Australia in summer.
WHAT ARE YOU DUNKIN' IN?
In October last year, a woman from Lakewood found flies, worms, and larvae inside her Dunkin' Donuts breakfast sandwich. She posted photos and videos of it on Facebook.
The company responded to this by directing complaints to the national hotline. A spokesperson for Dunkin Donuts said that a health inspector had been sent to the store where the sandwich was purchased.
Please fill in your e-mail so we can share with you our top stories!