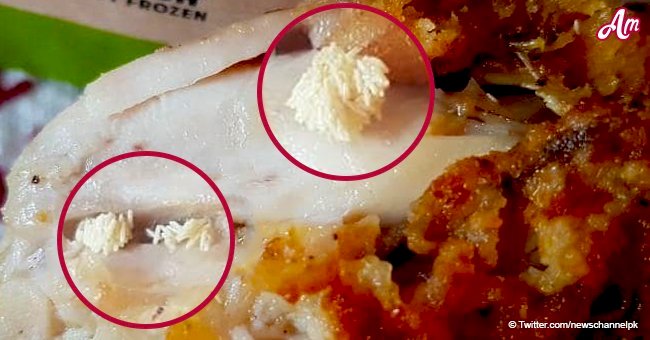 Outraged woman shares disgusting photo of maggots inside her KFC meal
Most people who eat take out are looking to satisfy their hunger without the effort of having to cook and clean up after. However, one woman wishes she had rather cooked herself a meal than picked up food at KFC.
Anna Spargo-Ryan from Australia recently went to KFC with her sister and ordered pieces of chicken. When they opened up their meal, they were disgusted by what they found.
Anna's sister had what they suspect is a maggot's nest in her piece of chicken. She took to Twitter and posted a photo of the meal in a tweet and tagged the fast-food chain in it.
Read more on our Twitter @amomama_usa.
MAGGOT MANIA
The tweet received hundreds of comments, likes, and shares. Anna also posted a follow-up tweet which contained a stock photo of what maggots look like to confirm that that was what was in her sister's chicken.
KFC replied the following morning assuring Anna that they are looking into the matter and take the incident very seriously. They also directed her to an online customer service form.
A KFC spokesperson also made a statement to defend the fast food chain's practices. They claim they take utmost care to ensure no bugs are in their products despite the fly problem that occurs in Australia in summer.
The spokesperson invited the public always to contact KFC's customer service should they encounter any problems with their products.
KFC'S NEW PRODUCT
It's no surprise if one is now scared on KFC's chicken, but a new product of theirs is bound to get people in the Christmas spirit.
KFC has launched a limited edition chicken-scented log for Christmas. When the log is burned in a fireplace, it makes the room smell like fried chicken.
The log is available on KFC's website for $18.99 although it must be noted that the smell might make people hungry for KFC's food.
ANOTHER MAGGOT STORY
It seems that KFC can't let up when it comes to allegations of their food containing maggots. A man in Mumbai, Datta Salve, recently found live maggots inside his KFC chicken pieces.
He posted about his outrage at the situation on Facebook but soon found that he wasn't the only person who had experienced this.
There were also reports of live maggots in KFC food from people in New South Wales and Arkansas.
Please fill in your e-mail so we can share with you our top stories!