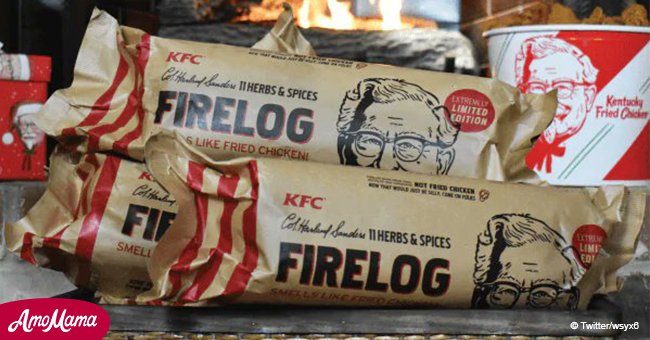 KFC launches a log with a fried chicken scent

It's beginning to smell a lot like ...Kentucky Fried Chicken?
We all know Kentucky Fried Chicken loves fried chicken, but they may have gone over the edge with a new novelty Christmas item announced on KFC's Twitter.
KFC is famous for its "11 herbs and spices", its extra-crispy chicken and its jolly founder, Colonel Sanders. And non-food items that smell like fried chicken, of course.
"This winter we're bringing all the things we love — family, friends and fried chicken — together around the fire with our scented firelog."
Andrea Zahumensky
DECK THE HALLS WITH LOGS OF KFC
For die-hard fried chicken fanatics, KFC developers created a scented fire log that smells exactly like fried chicken and sells for $18.99 on the chain's website.
The chief marketing officer of KFC US, Andrea Zahumensky, revealed that the KFC 11 Herbs & Spices Firelog is intended to give that cozy warm Christmassy feel, with the added advantage of a mouth-watering aroma.
Kentucky Fried Chicken has added a Season special to their always scrumptious menu - KFC Chicken and Waffles.
CHICKEN SCENTED SUNSCREEN?
This is not KFC's first foray into the realm of scents. In 2016, the chain launched its Colonel Sanders' Extra Crispy Sunscreen. The lotion, which smelled like fried chicken was a success and quickly sold out.
Read more on Twitter Amomama USA.
MORE EXCITING INNOVATIONS FROM KFC
In addition to the KFC 11 Herbs & Spices Firelog, Kentucky Fried Chicken has added a Season special to their always scrumptious menu - KFC Chicken and Waffles.
The treat, which will be available to consumers across the USA up until December 31, 2018, consists of KFC's spicy crispy fried chicken on waffles, described as:
"Our famous extra crispy, savory fried chicken atop a Belgian Liege-style waffle, with the finishing touch of classic Mrs. Butterworth's syrup."
KFC's Belgian Liege-style waffles are made from a traditional yeast-raised dough, containing pearl sugar. Pearl sugar is very coarse and does not melt at temperatures typically used for baking, and forms a crunchy crust on the waffles.
The sweet, crunchy waffles and the tangy spicy chicken are then drizzled with the famous Mrs. Butterworth's syrup for a sweet and savory delight sure to please the Colonel's fans.
The addition to the menu, touted s "the most delicious" union of all time, has been promoted by a series of zany videos depicting Colonel Sanders and Mrs, Butterworth falling in love - and creating KFC Chicken and Waffles.
That sounds like a more tempting premise than the chicken-scented logs.
In a related story, KFC fans in Singapore and the Philipines are enjoying a new menu item, Chizza, which is pizza with the crust replaced by crispy chicken and topped with everyone's favorite pizza say«uce and melted cheese.
Please fill in your e-mail so we can share with you our top stories!