'This ain't his baby,' Woman accused of having Iman Shumpert's child breaks her silence
Rumors have spread of Iman Shumpert fathering a child with another woman named Alby Ryde, but she has made sure to step out into the light and clear out that he is not the father of her child.
"Yall should be ashamed for creating this negative energy and throwing it around like it wont [affect] anyone."
The rumors were troubling to Tetyana and Iman Shumpert fans, who have been in rocky ground in the past few months. That is why when someone spread that Iman might be the father of her child, people were quick to get to the bottom of it.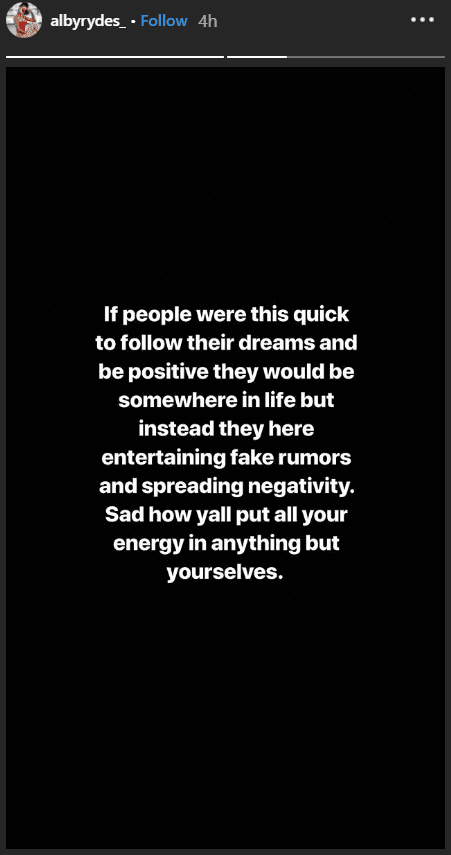 The couple was assumed to both know who Alby Rydes is, because they allegedly had casual sexual relations with her in the past, which led people to think that her child might be Iman's. However, Ryde herself made sure to clear out the air and say that no, he is not the father of her child. 
As she had already shared information to the public, she went on to say that she had the baby with the man she was dating, and that was not Iman. 
From the Shumpert household's side of things, Tetyana made sure to speak out through Twitter as well, clarifying that she and Alby have never met, and that her husband is not dumb, and that he'd know if it were true, she would "kill him." 
1. I've never seen/touched that girl in my life. 2. My page is gone because I'm upset at @defjam for not dropping my damn "WTP" video on time, per usual. 3. It's really sad that lies are entertained so much than the truth. 4. Iman is not dumb he know I'd kill him 😃 End of story. https://t.co/FCdG0c1VIr

— TEYANA M.J. SHUMPERT (@TEYANATAYLOR) January 21, 2019
Iman and Tetyana have been the subject of some negative news in the past few months, with some hinting third parties and others assuming their split. However, the couple has done nothing but debunk these claims, even showing their love further as much as they can. 
The couple recently celebrated their second anniversary back in October, and it was clear that love was in the air between the two of them. It also proved that although people have been trying to tear them apart both by rumors and fake news stories, their love remains strong and their faith in one another will never cease to exist. 
After all, these were the vows they promised to keep when they got married two years ago, and the values that they've been living by throughout their four years as a couple.