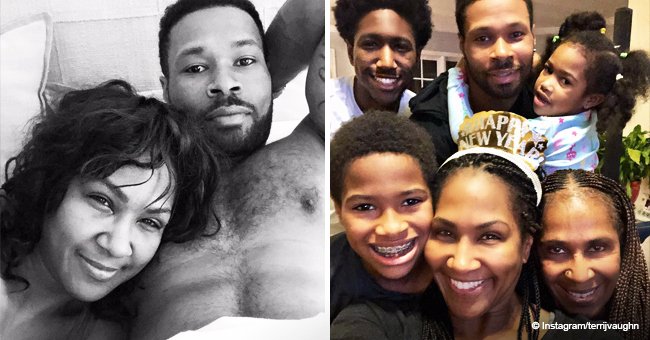 Terri J. Vaughn celebrates 11th wedding anniversary with her husband in touching photos
The "All Of Us" star, Terri J. Vaughn, is celebrating 11 years of marital bliss with her second husband, Karon Riley. To mark the date, she posted a series of pics with the man, as they snuck away from the weekend to reignite the flame of their relationship.
Vaughn, 49, and Riley, 40, celebrated their wedding anniversary on January 19 and took the chance to have a small getaway to Miami, just the two of them, to remember why they got married in the first place.
The triple threat star (she's an actress, producer, and director) shared some snaps from her romantic weekend on Instagram after going back home.
In the first pic, Terri rests her head on her husband's chest, as they lay bed. In the second, they look snuggly smiling to the camera, with Terri wearing a white shirt and Karon a black one. The third snap is a beautiful view of Miami from their hotel room.
She captioned the post:
"Snuck away for the weekend to remind each other why we got married 11 years ago. 1-19-08 #HappyAnniversary #matrimonyadventures #marriagechronicles #couples**t #Love."
LOVE CAN BE BETTER THE SECOND TIME AROUND
Karon is Terri's second husband and the father of two of her three children: son Kal'El, 10, and daughter Lola, 4. Her first marriage to Derrick Carolina lasted six years, and she shares son Daylen Ali, 17, with the music composer.
In a blog entry for Essence, Terri confessed a few years ago that she stayed in her first marriage, which had become an unhealthy relationship, for the all the wrong reasons. A hopeless romantic, Vaughn was in love with the idea of security, stability, and tradition that being married offered her.
She was terrified of failing and of what others would think, but eventually, she decided divorce was the only way out.
For Vaughn, the growth and experience she earned throughout her first marriage, helped her when she decided to dive into the married life a second time. "Today, ironically due in part to the experiences in my first marriage, I am much more comfortable in my own skin," she said. And added:
"I know what I want and don't want, and I am not as much of a "people pleaser." I am also more aware of my own faults and shortcomings."
THE KEY TO A LONG-LASTING MARRIAGE
Communication and mutual respect are essential in a healthy relationship. For Vaughn, being able to express herself freely and calmly, without screaming matches or tears, helped her establish a better connection with her husband.
"We both have strong, independent and authentic identities, but because we trust each other, these are not threats to our union," she said.
She also stated that knowing that marriage is also part business helps make the ride more comfortable for the two people involved:
"Most first-time spouses don't understand that marriage is not just about the love between two people — it is a business, with contracts and financial ties that have nothing to do with how you feel about someone."
TERRI'S ADVICE TO OTHER WOMEN
As for advice for women who want to give up on love because it didn't go well the first time around, she said:
"Do you love yourself? Have you created a life for yourself using your own talents/gifts? Does the mate you have chosen support and celebrate who you are right now? Are you grounded spiritually, emotionally, financially? If so, don't be afraid to take the plunge, again. Love can be better the second time around."
Is clear that, for Terri, marriage has worked perfectly this time around. As a testimony for the love she has for her man, Vaughn took to Instagram on his birthday last August to gush about all of his qualities.
She wrote:
"@karonjosephriley my handsome, talented, passionate, tenacious, sexy, fantastic father, bat sh*t crazy Husband HAPPY BIRTHDAY MY LOVE! You are AMAZING! Love the King you are and thankful to be on the journey with you! Your #DesertGirl #keeppedaling #willfulevolution #blackexcellence"
Fans love the couple's relationship and are always gushing about them being #goals in Terri's comment section.
Please fill in your e-mail so we can share with you our top stories!