Bride with brain cancer claims she was dumped by fiancé days before wedding after she gained 5st
A model's fiance calls off their engagement through Facebook Messenger a week before their wedding. She suspects it was because she excessively gained weight due to her cancer treatment. 
What could be worse than having brain cancer? Here's what. Your fiancé calling off your engagement just days before your wedding because your cancer caused you to gain weight. What's worse, he ended things over Facebook messenger. 
This is the sad story of a model whose fiancé couldn't commit to being with her through sickness, just in health.
Former model with terminal brain tumour claims fiancé DUMPED her on Facebook Messenger days before wedding https://t.co/es5hE2wBtU

— Daily Mail U.K. (@DailyMailUK) January 21, 2019
THE EVENTS THAT LED TO HER HEARTBREAK
Emily Nicholson is an aspiring model who was gaining success as a bar manager and club promoter in Australia when she discovered she was terminally ill. After suffering from seizures, doctors confirmed in February 2016 that she had astrocytoma brain cancer.
By January 2017, Emily and her then-boyfriend Jamie Smith decided to take their relationship to the next level after learning she had a year to live. They planned to marry in March 2017 which was a month after the surgery Emily needed to have. They even discussed freezing Emily's eggs so she could still have children in case she recovered.
"He made it very clear that he didn't love me. I felt it was because of the way I looked and what had happened."
However, just a week before their wedding day, Emily received a message from Jamie on Facebook messenger telling her he wanted to "call it a day."
The 24-year-old was devastated and suspected Jamie lost interest in her after she gained weight due to her cancer treatment. Emily was taking steroids and gained five sizes in six weeks. 
An aspiring model with terminal brain cancer claims she was dumped by her fiancé a week before her #wedding https://t.co/yIzBRoQUON

— Craig Y Nos Castle Weddings (@CraigWeddings) January 22, 2019
THE AFTERMATH
Recalling their text exchange on the day they broke up to The Sun, Emily said,
"Jamie messaged me and said he didn't want to be with me and he hadn't loved me for a long time.
"It was horrendous. He made it very clear that he didn't love me. I felt it was because of the way I looked and what had happened."
To make matters even more painful, just hours after Jamie called off their engagement, he still attended his stag party. 
JAMIE'S VERSION OF THE STORY
In his defense, Jamie said he didn't break up with Emily. In fact, he claims it was the other way around. He also said it had nothing to do with her weight because if it did, then he would have broken up with her even months before. 
EMILY REMAINS STRONG
While Emily insists she was dumped, she has learned to move on from that experience. 
"Now I don't feel anything about him, he hurt me but there's no point getting upset over it. I've just had to be strong about it all."
'He said he hadn't loved me for a long time,' Model dumped by fiance a week to their wedding https://t.co/PYKAv5MYJf pic.twitter.com/jNIzUJg1i9

— Mpasho News (@MpashoNews) January 22, 2019
EMILY'S MOTHER SPEAKS UP
Emily's mother, Joanne Nicholson who was also angry with Jamie for hurting her daughter admits she's moved past that. 
"I was angry at him, but as time has gone on I'm not angry at him anymore."
"He was lovely, he was a really nice lad and it got to the point where she couldn't go out and she was getting bigger." 
"When you go through something like this, life is too short to hate anyone – he did his best but I don't blame him, it got too much for him."
Emily's family is back in their hometown in the United Kingdom where they're raising money through a GoFundMe page to secure an immunotherapy vaccine for Emily who's defied her life expectancy. The pioneering vaccine reportedly costs £30,000.
THE GLARING REALITY OF ABANDONMENT AFTER A CANCER DIAGNOSIS
Emily is one of many women who've been abandoned by their partners because of a sickness. In fact, studies show "50% of couples break up during a cancer diagnosis."  According to a CNN report in 2011 titled, "When spouse gets sick -- who leaves?" a study in 2009 discovered that "a married woman diagnosed with a serious disease is six times more likely to be divorced or separated than a man with a similar diagnosis." This means that Emily may have dodged a bullet with the cancellation of her wedding.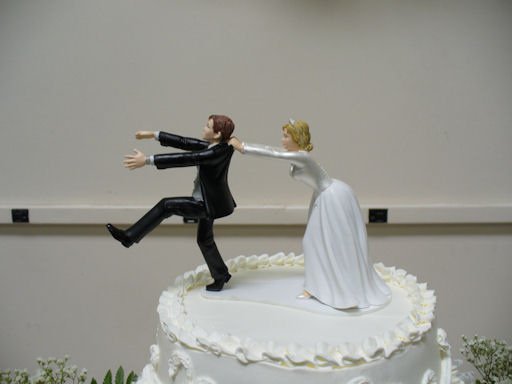 CANCER-STRICKEN WOMAN LIVES TO SEE HER WEDDING DAY
Meanwhile, an engaged woman diagnosed with stage four breast cancer suffered a different fate. Though she knew she was terminally ill, she insisted on marrying her fiancé on the date they originally planned because of its significance. Miraculously, the woman made it to her wedding day and even to her honeymoon. Unfortunately, seven months into her marriage she succumbed to her disease. Her husband mourned her loss but he proved that he was true to his vow to be with his wife through sickness and in health.