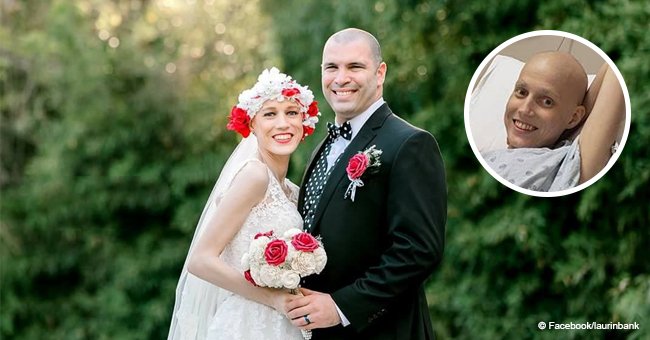 Young bride who miraculously survived until wedding day lost her battle to cancer

A bride from South Carolina battled cancer courageously and lived to see her wedding day before she passed away.
The 30-year-old Laurin Bank had stage four breast cancer, and doctors didn't believe that she would survive until her wedding day back in March.
Read more on our Twitter account, @amomama_usa. Photos from her wedding ceremony can be seen below.
Her medical team advised her to move the wedding day up, but Bank refused and insisted that the ceremony be held on March 24.
She explained in an exclusive interview with People that the date had significant meaning, and added:
"We felt like moving that date was giving up and giving in to the cancer and letting it run our lives. We didn't want to give in."
She said that walking down that aisle on that specific was her goal, and she was grateful that she had the opportunity to dance with her husband on their wedding day.
Bank was diagnosed more than four years ago and was declared cancer-free after a year of chemotherapy and radiation.
She also underwent a double mastectomy and thought the hardest part of her battle was behind her and that she "had gotten [her] life back."
Sadly, the cancer returned in August 2017 and had spread to her bones, liver and lungs. She received treatment again, but there was nothing more doctors could do for her this time around.
However, she refused the move the wedding date up by six months, fiercely believing that she would be able to hold out until her wedding day. And she did.
Their ceremony was attended by 230 for their family and friends, and Bank looked gorgeous in her white wedding gown with lace detail.
The couple also had the opportunity to go on their honeymoon together and had seven months together before the cancer claimed her life.
Earlier today, her husband Mike shared the devastating news on Facebook: "It is with great sadness that we say goodbye to our beautiful queen."
He added: "She has left a huge whole [sic] in all of our hearts, and I am humbled to be her king. I was able carry her to bed and hold her until her last beautiful breath."
Breast cancer is the most common cancer that affects American women, and even though the survival rates have increased, the disease still claims lives every year due to failure to detect the tumor cells early on.
Various awareness campaigns aim to share information about breast cancer as early detection could save lives.
There are several signs to look out for; women are advised to be on the lookout for tell-tale symptoms. Read more here.
Please fill in your e-mail so we can share with you our top stories!