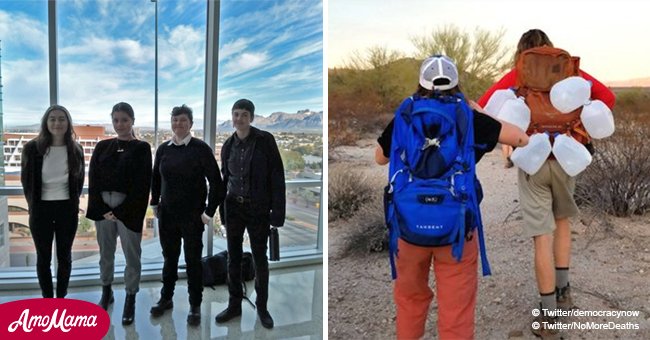 Volunteers convicted for leaving food and water for migrants crossing US-Mexico border
The US-Mexico border issue is getting out of hand with volunteers being prosecuted for showing any act of kindness towards migrants.
On January 18th, some members of the NGO, 'No More Death' were convicted guilty on all charges by a federal magistrate judge, Bernardo Velasco.
The volunteers, Natalie Hoffman, Oona Holcomb, Madeline Huse, and Zaachila Orozco were charged on account of entering a national wildlife refuge without a permit.
One of the helpers, Ms. Hoffman, was additionally charged with operating a vehicle in the wilderness. All these charges are a misdemeanor, but they were all found guilty of the crimes. Although they have not been sentenced yet, they are liable to about 0 to 6 months in jail due to the weight of their crimes.
These four individuals are among nine others whose offenses are also related to helping and giving to the less privileged.
The remaining five will have their case presided on by a judge on February 26th and March 4 this year.
The news is bewildering, and people have shared their discernment about the judge's ruling on Twitter.
One person commented:
"In addition to basic humanity, the judge's words also lack a logical premise. A wildlife refuge littered with rotting bodies of refugees who died because rescuers were prevented from providing lifesaving aid flies in the face of preserving a pristine environment."
Another said:
"How convenient. So they're environmentalists when it suits their inhumane agenda."
The desert borderlands of the southwest are not conducive for people. The temperature is unbelievably high during the summer; annoyingly low during winter and there is also a scarcity of water. And the government is well aware of these details. It is quite ironical and sad to have people suffer for showing kindness towards others who are less privileged.
The USA- Mexico border issue is one of the most divisive issues currently, even at the highest tier of government. It's responsible for the longest government shutdown in the history of the USA.
Please fill in your e-mail so we can share with you our top stories!