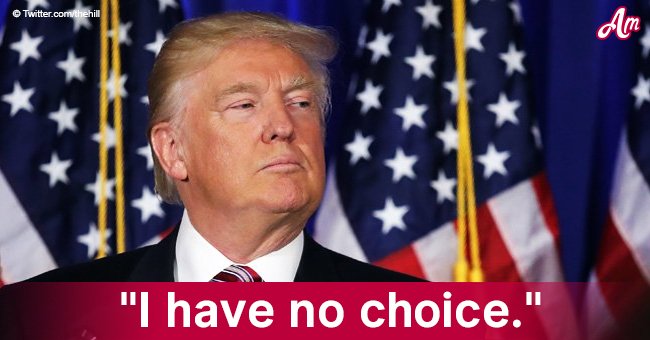 President Donald Trump threatens to close US border with Mexico because of migrants
On Thursday, while many people were celebrating Thanksgiving, President Donald Trump spoke to military members and reporters. The press conference was held at his Mar-a-Lago resort in Palm Beach, Florida.
While speaking on different topics he touched on the migrants at the US-Mexico border. He threatened to close the border if things became uncontrollable.
President Donald Trump has revealed that he's signed an order to close the US-Mexico border. He also shared that he'd officially authorized military troops to use lethal force against migrants who might attempt to enter the US illegally.
Trump said:
"If they have to, they're going to use lethal force. I've given the OK. If they have to -- I hope they don't have to."
For more on this story go to our Twitter account @amomama_usa. The president shared that he had "no choice" in the matter and without providing evidence he claimed that the migrants were criminals.
"You're dealing with a minimum of 500 serious criminals and rough people."
He stated,
"You're dealing with a minimum of 500 serious criminals. So I'm not going to let the military be taken advantage of. I have no choice. Do I want that to happen? Absolutely not. But you're dealing with rough people."
Trump also shared that he was willing to face a partial shutdown of the government over "border security." He added that he'd signed the order two days ago.
He revealed that he'd already shut down parts of the border and that the entire border may be closed if conflict with migrants escalates. Trump shared that it would be a temporary shutdown until they get things under control.
He explained how the shutdown would affect Mexico:
"And Mexico will not be able to sell their cars into the United States where they make so many cars at great benefit to them, not at great benefit to us."
So far, the White House hasn't released the order. Before the midterms, the president had ordered the military to reinforce the southern border to stop the migrants making their way from Central America to the US.
At the resort, Trump also held a Thanksgiving dinner where he was joined by his family. The menu consisted of a turkey with all the trimmings, beef tenderloin, lamb, salmon, Chilean sea bass, red snapper, braised short ribs, and sides.
Please fill in your e-mail so we can share with you our top stories!