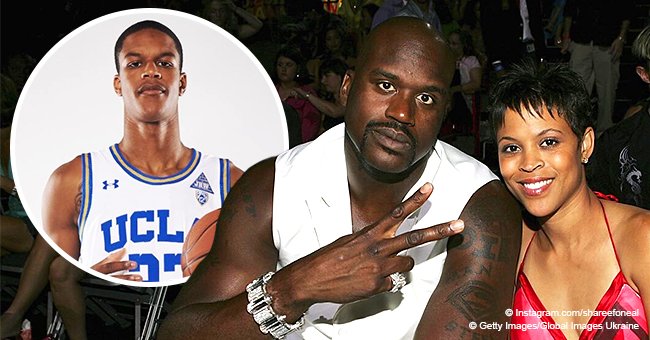 Shaq & Shaunie O'Neal's son Shareef 'can't wait' to play basketball for UCLA after heart surgery
Shaquille and Shaunie O'Neal's son Shareef is eager to get back to playing basketball for UCLA after his heart surgery. In an Instagram post, shown below, he revealed he "can't wait."
UCLA basketball star, Shareef O'Neal was missed the 2018 season because of the health issue. It was revealed he needed to undergo major heart surgery.
Now, it seems he is doing well in recovery. He took to Instagram recently to reveal his excitement to return back to the court.
The photo depicted the teen in full basketball kit. He held a basketball in his hand while looking directly at the camera with a serious expression.
In a short caption he simply wrote, "CANT WAIT #ssjreef #tb."
When Shareef was admitted for the surgery his distraught mum had taken to Instagram to ask her fans to pray for him. She begged them to keep him in mind.
"This morning was by far my toughest moment being a Mom. If only I could take his place today. Could I at least go with him in that operating room and hold his hand. Separating from him as he was wheeled off to surgery was heartbreaking. THATS MY BABY!" wrote the worried mum.
Shareef has kept his fans updated about his progress throughout his recovery. He posted many messages to his Instagram and spent lots of time reflecting on the trials he was facing.
He took to the caption of one post to reflect on 2018. He eventually thanked 2018 for testing his strength and showing him he can do anything he puts his mind to.
"This year was def one to remember... this year I was constantly hit with something new to try to break me down or knock me down ... I always get back up . As the year went on the hits were getting harder. I always powered through them . I put my all into everything I did this year and I'm blessed to even be able to finish this year out . Although this was not the outcome I expected... at least I am here Today. I want to thank everyone who was apart of this years journey! I want to say thank you to everyone that supported me and sent me good spirits going into the tough stuff that happened . Hopefully you guys tag along for next years adventure .. thanks 2018" wrote Shareef.
In a separate post, he revealed he gets inspiration to improve his basketball skills from his 12-year-old sister.
Please fill in your e-mail so we can share with you our top stories!