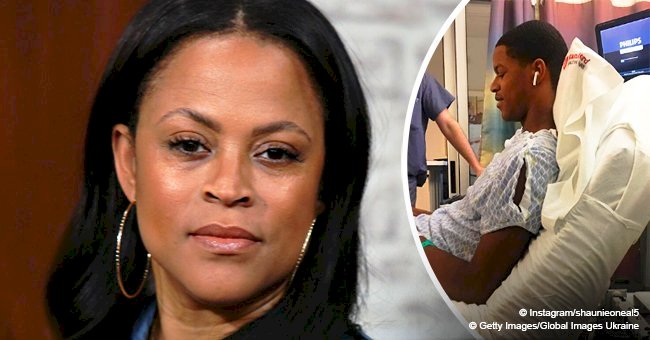 Shaunie O'Neal asks for prayers in emotional post as son Shareef undergoes heart surgery
Shaq O'Neal's Ex-Wife Shaunie 'Basketball Wives' fans to ask for prayers. She took to Instagram to post the emotional pleas as her son Shareef is admitted for heart surgery.
Shaunie O'Neal took to Instagram to pleas to fans for prayers. Her son, Shareef O'Neal is being taken into theatre for a heart surgery to correct an irregularity.
The teenage UCLA basketball star was recently forced to miss the 2018 season because of the health issue. On Thursday morning, his mum shared a picture of her "baby boy" laying in a hospital bed.
The distraught mother asked fans to remember her son in their prayers and send him positive thoughts. In her post, she added a heartfelt note as the caption.
"This morning was by far my toughest moment being a Mom. If only I could take his place today. Could I at least go with him in that operating room and hold his hand. Separating from him as he was wheeled off to surgery was heartbreaking. THATS MY BABY!" wrote the worried mum.
Shaunie continued saying, "I don't care how old, how big, how grown my kids get I still want to protect them. I had no control over any of this. But there is a God, I trust and believe He is in there with my baby right now and has complete control."
Fans took to the comments section to share their prayers. Some also shared stories of their experiences and words of comfort for Shaunie.
One fan replied: "I know that feeling all too well. By far the worse experience any mother can go thru is separating from your kid when they undergo surgery. May God cradle their son in His hands. May He guide hands, minds, and machinery of the surgeons in Jesus name…AMEN"
Shareef had opened up about his health issue through an Instagram post earlier in the year. He wrote, "Recently I found out I had a serious heart issue ... I am very blessed to be here living today, one of those moments on the court could've been my last breath."
After his announcement, Shaunie had posted a statement of her own. She expressed her thanks for the outpour of support that they received from fans.
"As a parent, it's always tough to watch your child/children go through anything that's out of your control! Shareef's spirits and strength during this time has helped us all through the process. He's beyond strong, and understands that this setback will only be apart of his amazing testimony." wrote his mother in her statement.
With her new revelation, they were once more inundated with support and prayers from fans. The response has been overwhelmingly positive and blew some fans away.
One commenter even took to Instagram to confess saying, "Trust and believe this is his healing and he will fully recover soon. It felt good reading all of these comments. One thing about our people we will drag each other but when it really matters, we have one another's back. God has already done it Shaunie."
Please fill in your e-mail so we can share with you our top stories!