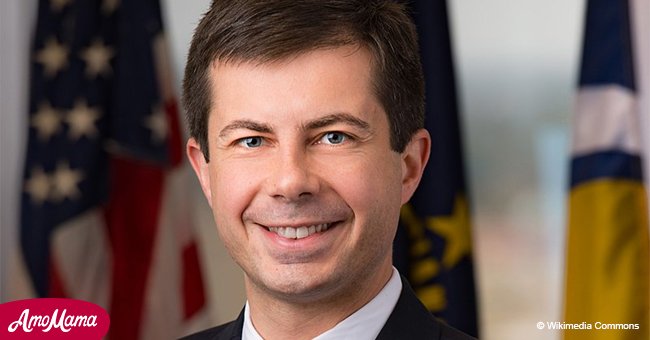 Married gay mayor puts forward his candidacy for president first time in the history of the US
On Wednesday, South Bend Mayor Pete Buttigieg entered the 2020 race for president. This is the first time in history that a married gay man has run for US president.
However, the mayor didn't just announce his candidacy in an ordinary way but created a video that showed him with his husband.
In 2011, Indiana resident Pete Buttigieg, 37, was elected as mayor. Now he's joined other Democrats in running for the 2020 presidency.
Buttigieg is an openly gay man who married his partner, Chasten Glezman last year. He even live-streamed their wedding day.
The mayor announced his candidacy with a video featuring scenes of him and his husband cooking and playing with their dog, Buddy. In the clip, he said: "We can't look for greatness in the past."
He added that "Right now, our country needs a fresh start." Although his platform hasn't been released, he said it would focus on freedom, democracy, and security.
If the mayor wins his bid for the Democratic nomination, he would be the first nominee of a major political party who publicly identifies as gay. However, should he then beat President Donald Trump; it would be a historic event.
Buttigieg was only 29 when he was elected as mayor. Four years later he came out just days before the Supreme Court struck down same-sex marriage bans nationwide.
Acknowledging that his announcement video featuring his husband was historical on its own, the mayor addressed it to CNN's Dan Merica. He stated:
"I am also mindful of the fact that this just might make it a little easier for the next person who comes along. My sincere hope is that by the time my kids are old enough, once we have kids, to understand politics, that it won't even be newsworthy."
Some of the other Democratic politicians who are running for president include former mayor of San Antonio, Texas Julián Castro, US Representative from Hawaii's 2nd District Tulsi Gabbard, Junior US senator representing New York Kirsten Gillibrand, and Junior US senator representing California Kamala Harris to name a few.
Please fill in your e-mail so we can share with you our top stories!