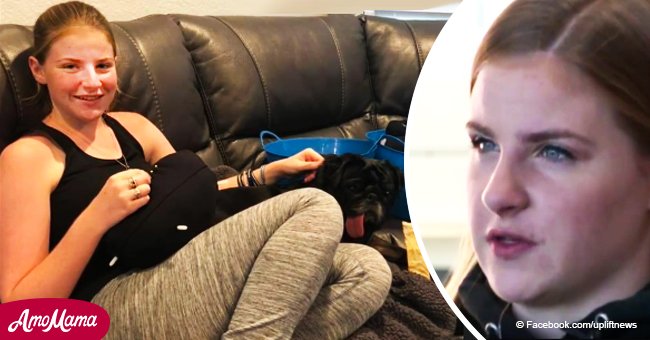 Teen transforms fallen police officers' uniforms into a stunning gift for heroes' families
A teen from Florida creatively help out the families of fallen police officers by making teddy bears out of the officer's uniforms.
Megan O'Grady is the daughter of a police officer, and her worst fear is losing her dad in the line of duty. Living in Cape Coral, this 16-year-old created a nonprofit called 'Blue Line Bears.'
The aim is to comfort the families with something personal from their lost loved ones they can hold close. After five Dallas police officers got killed during a shooting in 2016, the idea came to her as Megan said:
"I decided to make something that children love, and it's ageless . . . teddy bears. People still love them when they're like 80 something, so I wanted to do [what] people of all ages could love and hold."
When a police officer dies in the line of fire, Megan collects a shirt of the officer from the department and uses it to make a stuffed bear, which she hand makes herself.
Megan then adds a personalized tag onto the stuffed bear's stomach that features the fallen officer's badge number and last name. Her reason for choosing to make bears is full of compassion as she added:
"I want them to be able to kind of hold a piece of their loved one again because the shirts are obviously the most personal part of the job other than the badge itself."
The kind teenager doesn't ask for funds. Instead her nonprofit relies on donations. Megan's largest donation to date was to the Adams County Sheriff's Office in Colorado, where she delivered 15 bears in honor of Deputy Heath Gumm on January 2, 2019.
The teen made a bear for each division within the sheriff's office and included three bears for Deputy Gumm's family members.
Afterward, she posted pictures on the 'Blue Line Bears' Facebook page of her visit to Adams County Sheriff's office to share the joy they brought. Since the start of her nonprofit, Megan traveled to 34 states where she personally delivered 450 teddy bears.
The younger's efforts have also reached the attention of President Trump. During an interview with Fox & Friends in June 2018, Megan shared that she received a letter from the president, where he praised her on her efforts. Pleasantly surprised by the letter Megan said:
"It made me really happy, and it's probably going to change my life."
In the letter, President Trump noted how touched he was by her mission to ensure that the fallen officers "will never be forgotten."
Similarly, Enchanting Angels, based in Sydney also makes special bears, but with another purpose. Handcrafted, just like Megan's teddies, they are decorated with crystals, which the brand claim help develop loving relationships from births to new love, as they state on their website:
"Children truly believe that after cuddling their Angel Teddy Bear, the crystal's energy helps them to feel better."
What we do know is no one would say no to cuddling with a teddy and the comfort they give, especially not one created by hand with love.
Please fill in your e-mail so we can share with you our top stories!