Meghan gets a special gift that fits her elegant navy Dion Lee dress perfectly
On the day of their arrival in Melbourne Meghan receives a gift from a special little boy, making headlines worldwide.
In anticipation of Meghan and Prince Harry's arrival in Melbourne preparation ahead of time was harder work for some than for others. Six-year-old Gavin Hazelwood woke up but felt under the weather and his mum allowed him to stay home from school.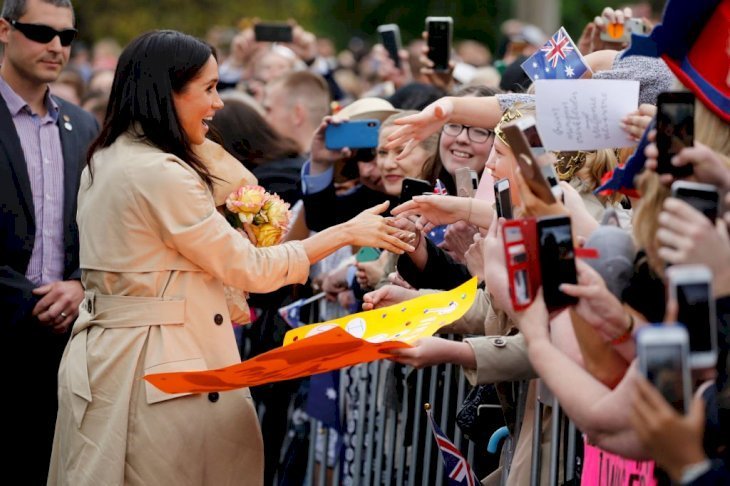 But Gavin had a plan, he knew of the Royals' arrival later that day and he had things to do; he decided to make Meghan a special gift. Dressed in a pilot's outfit, Gavin and his mum stood behind the barriers along Government House Drive in Melbourne's Royal Botanic Gardens eager to give Meghan his gift he had spent hours making.
Read more on our Twitter account @amomama_usa.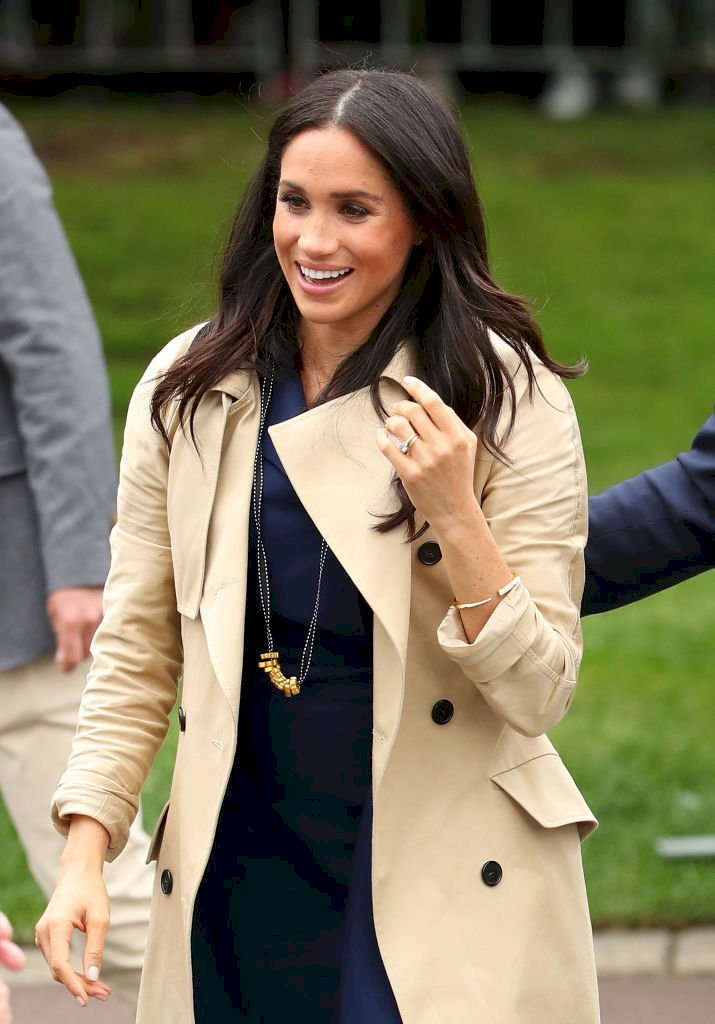 The royals arrived and made took time to greet the many happy faces that were eager to welcome them. Gavin stood out, catching Meghan's attention while wearing his little pilots' outfit and held out a sign he made that read, 'I made you a necklace.'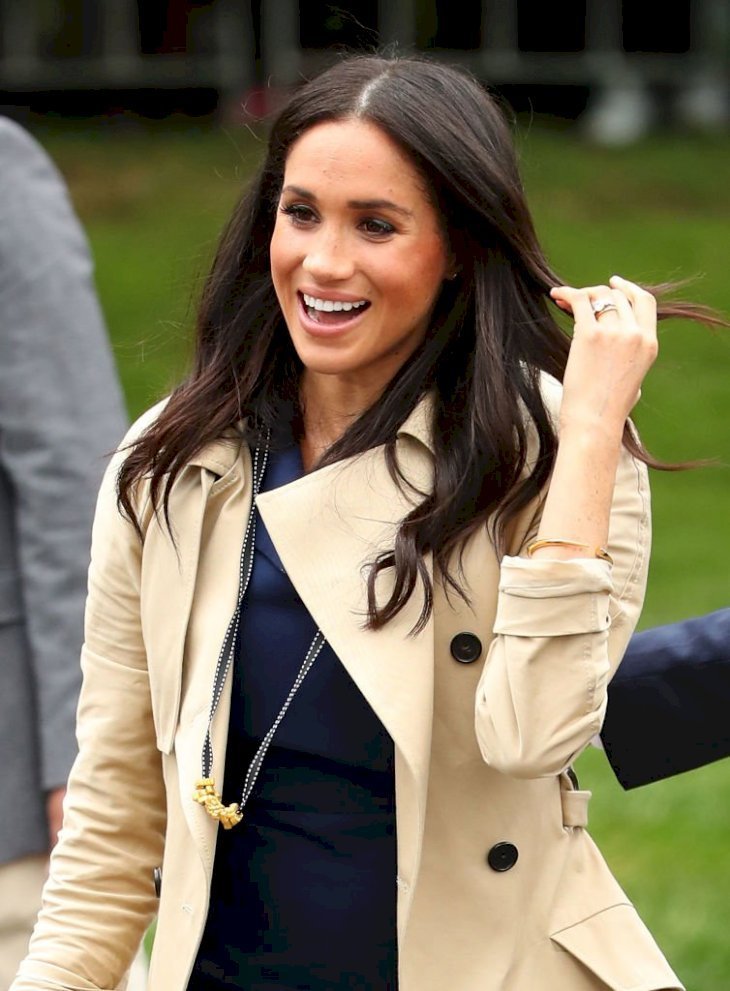 The royal couple went over to him and excitedly he gave Meghan her present. It was a necklace made with a blue ribbon and gold-painted pasta. No one actually expected her to wear it but without hesitation, she put it on, and it complimented her custom-made navy blue Dion Lee outfit perfectly.
Beaming, Gavin later said:
"It was my idea …but Mum helped a bit. I dipped the pasta with gold paint. Mum helped me thread through the necklace."
Gavin woke up "with a cough" so had to stay home from school today. He whipped together a necklace for Meghan, painted it gold and hopes to give it to her soon. @newscomauHQ pic.twitter.com/Y3y3OZjjRK

— Rohan Smith (@Ro_Smith) October 17, 2018
Meghan was seen wearing the necklace until attending a formal reception inside the Government House later on. The generosity and appreciation Meghan showed in wearing the necklace won praise among welcomers in Melbourne and online alike.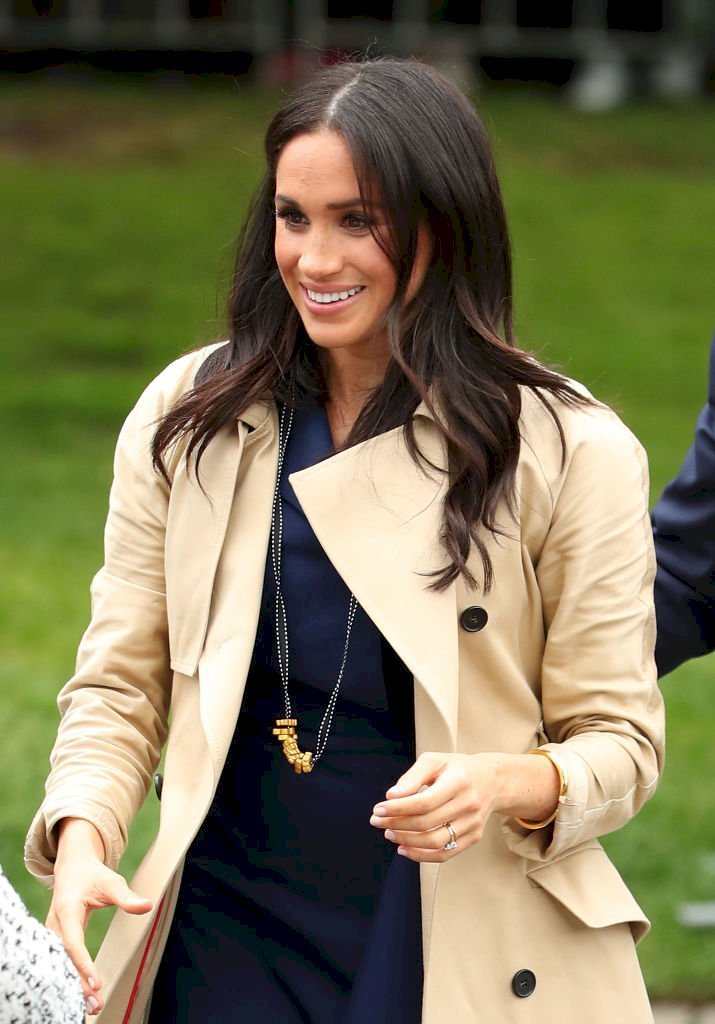 During their trip, Meghan and Prince Harry have often been seen paying attention to children, who have waited eagerly to give them a warm welcome. When they arrived in the town of Dubbo, New South Wales another little boy got extra attention from Prince Harry.
The five-year-old Luke Vincent was fascinated with Prince Harry's beard, and Meghan got a bunch of posies and hugs all around.
Luke, who has Down's syndrome, could not get enough of Prince Harry's facial hair, and the exchange between little Luke and the royals warmed the hearts of everyone that witnessed the sweet interaction between them.
While in Sydney the royal couple received another adorable gift. Their visit to Taronga Zoo had them coo over Koala's named after the royal pair and Meghan received a box with a gift inside for the little royal on the way.
Inside was a special kind of teddy bear named Angel of Love, created by a brand called Enchanting Angels based in Sydney. The teddy decorated with a Rose Quartz crystal claims to help in developing loving relationships from new love to births. The brand's website:
"Children truly believe that after cuddling their Angel Teddy Bear, the crystal's energy helps them to feel better."
Whether it's gift of a necklace of gold painted pasta or love inducing teddy bear the intentions are the same and equally touching.