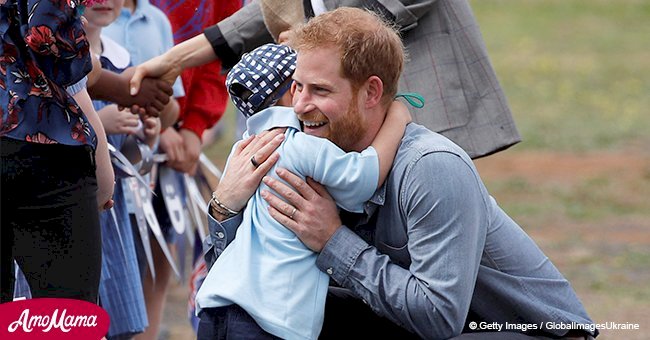 Touching moment between Prince Harry and a boy with Down's syndrome (photo)
Royal couple Meghan and Harry arrive in Dubbo, New South Wales from Sydney and the welcome from a 5-year-old boy melt hearts and steals the show.
Harry and Meghan received a warm welcome in Dubbo as 150 flag-waving local school children greeted them at the town's airport. They were met by officials, including NSW Police Minister, a member for Dubbo Troy Grant and Mayor Ben Shields.
They spent over 15 minutes shaking hands and hugging youngsters at the airport before heading out on official business. Little did they know what was yet to come before they left the airport.
Last in the official line of children waiting to greet the royal couple was 5-year-old Luke Vincent, beaming he approached the couple and was immediately fascinated with Prince Harry's beard.
Without hesitation, he carefully felt and lightly tugged at his beard, it mesmerized the little kindergarten pupil at Buninyong Public School hugging both Prince Harry and Markle, while also giving her a bunch of posies.
Read more on our Twitter account @amomama_usa.
Luke, who has Down's syndrome could not get enough of the royal couple, and Prince Harry's facial hair much to the delight of everyone. The school's Principal Anne Van Dartel said:
"It's been a wonderful experience for these little country kids to meet people they've only ever seen on TV."
Van Dartel went on to say:
"We took 21 students to the airport and joined all Dubbo primary schools to greet the Duke and Duchess. Prince Harry walked along the line speaking personally to every student, asking them their name, their school, and favorite subjects and sports. The way the Duke and Duchess gave every student individualized attention was truly exceptional."
5-year-old Luke told his teachers that although his favorite person is Father Christmas, Prince Harry is now as well. The Royal couple's first official engagement in Dubbo is to unveil a new plane to mark the Royal Flying Doctor Service's 90th year, they are also scheduled to meet residents for a community picnic at a park in the regional city later on.
Prince Harry and Meghan Markle's visit to Australia before arriving in Wales had a few surprises of its own. On the first day of their Australian tour, they received their first official baby gift from Governor General Peter Cosgrove and his wife Lady Lynne Cosgrove.
The adorable stuffed kangaroo with its joey and a pair of UGG booties to round it off had them gushing. However, their visit to the Sydney Opera House had another surprise in store for them.
Among the crowd someone caught Prince Harry's eye, 9-year-old Sethunya Gibbons has an uncanny resemblance to Meghan Markle at the same age. Meghan has a much younger double!
Meghan Markle and Prince Harry are both passionate about children, they attended the WellChild Awards on September 3 where the Prince enthusiastically continues his late mother, Princess Diana legacy and has been a patron of WellChild since 2007. The WellChild Awards was held at the Royal Lancaster Hotel in London and honors both children who are gravely sick and their caregivers. Prince Harry delivered a heartwarming speech. He said:
"First, let me congratulate all of those nominated tonight. Every one of you is truly amazing. You have shown all of us what it means to be a champion – whether for yourself, your family, your community, or someone in need."
Please fill in your e-mail so we can share with you our top stories!