Prince Harry introduces Meghan Markle to Aussie girl that looks like a young version of the duchess
Meghan Markle met her mini-me in Australia and it was Harry who spotted her. The duke was so amazed he even took a photo of them, revealing their uncanny resemblance.
It'll be months before Meghan Markle and Prince Harry meet their first child. But while touring Sydney, the couple connected with Meghan's mini-me.
A FAMILIAR FACE
9-year-old Sethunya Gibbons was among the crowd that greeted the royal couple at the Sydney Opera House during their ongoing tour of Australia. She caught the attention of Prince Harry who noticed something familiar about her. She looked exactly like his wife when she was her age.
MEGHAN MEETS HER MINI-ME
Amazed at their similarity, Harry called Meghan to introduce her to her younger self. When Meghan met Sethunya, she acknowledged that they looked alike.
"You remind me so much of myself when I was younger. And I love your shirt."
Sethunya was wearing a T-shirt that read "Girls can do anything." Even Harry noticed and read it aloud when he first spotted her.
He later offered to take a photo of his wife with Sethunya, her grandmother and her cousin, using the child's phone. Here's the photo that's likely to be a treasured memento in the Gibbons household.
For comparison, here's a photo of Meghan when she was about Sethunya's age. Their resemblance is uncanny.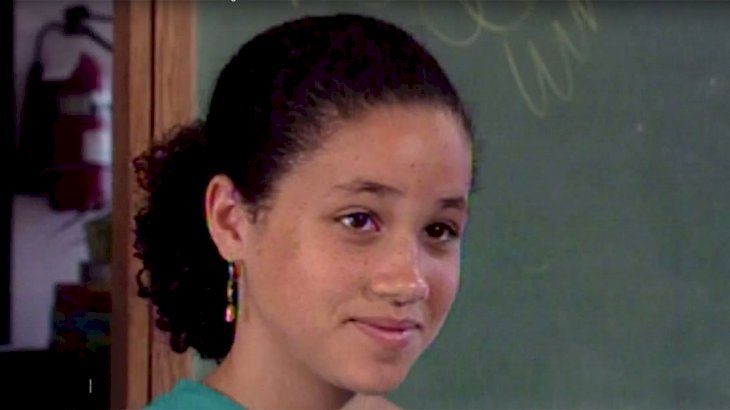 RUNNING ON ADRENALINE
Meghan and Harry are in Australia for their first official foreign tour together. Coinciding with the trip, they announced the news that they're expecting. Meghan is reportedly "running on adrenaline" as she embarks on their tour carrying a child. She admitted feeling "a bit tired" while speaking from Mountain View farm. But she intends to be present in all 76 engagements of their sixteen-day journey. Apart from Australia, the couple is also expected to visit New Zealand, Tonga, and Fiji.
FIRST OFFICIAL BABY GIFT
On the first day of their Australian tour, Governor General Peter Cosgrove and his wife Lady Lynne Cosgrove hosted a reception for the Duke and Duchess of Sussex. It was here that the couple received their first official baby gift - a stuffed kangaroo with its joey and a pair of Ugg booties. Meghan and Harry gushed over the gift, the first of many they later received in Taronga Zoo.
The couple still has a long way to go on their trip. But the happy vibes - the presents, Meghan's mini-me, must be making it worth their while. We can't wait to see more of their trip in the coming days.