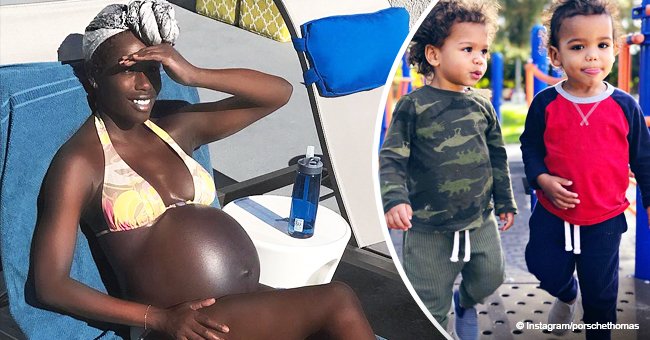 Porsche Thomas, attacked for being 'too dark' during pregnancy, shares photos of her biracial twins

Porsche Thomas, the daughter of "Real Housewives Of Atlanta's" Peter Thomas, was cyber-bullied during her pregnancy, but now, the mom-of-two continues to share picture after picture of her adorable biracial twin boys.
Two years ago, a pregnant Porsche was the target of internet trolls attacking her for her complexion, but today, the Vegan advocate couldn't be prouder of her twin sons, August and Berlin Groß.
One look at Porsche's Instagram account and anyone would be convinced of her love and devotion towards her boys.
A few days ago, the twin-mom shared a photo of both toddlers looking cute in casual wear. One wore a dinosaur-patterned green t-shirt and matching joggers while the other donned a red-and-blue tee and dark blue joggers.
"Big mood and ultimate goals," Porsche wrote in the caption alongside a love-struck emoji.
HATING ON A PREGNANT WOMAN
Looking at the doting mom today, it's hard to imagine that she was trolled mercilessly about a week before delivering her twins in 2017.
Porsche shared an Instagram photo of herself in a bathing suit on New Year's Eve, revealing her bump in all its glory.
While the then-expectant mom was looking forward to welcoming her children, internet trolls chose to bash her skin color, calling her "nasty" and saying she was "so black." Others insulted her for marrying a white man.
In a 2017 interview with BET, Porsche sadly revealed that most of those who criticized her were black.
"Most of the negative comments I received were from Black people, a lot of dark-skinned Black people, a lot of young Black people, which is crazy to me," she said.
RISING ABOVE HATRED
But the melanin beauty never let the hateful words get to her. She further disclosed:
"The fact that we're in a Trump era made it less funny. But I don't let things like that bother me. I'm pretty secure in myself."
Porsche displayed that security when she sent off a classy clapback to the bullies in a subsequent post. Putting her bump on display yet again, she wrote:
"While some of y'all been in my comments criticizing the blackness that is my belly and me during what shoulda been your holiday cheer, I been over here enjoying life, growing tiny humans, performing miracles and hopefully getting even blacker."
A FAIRYTALE WEDDING
Porsche and her husband, motivational speaker Till H. Groß, tied the knot in March 2016. Peter Thomas, who was married to "RHOA's" Cynthia Bailey at the time, took to Instagram to gush over his daughter's big day.
Peter also took time out to respond to those who had an issue with his son-in-law's race. "I'm happy with her decision because I'm happy with whatever whoever makes my little girl happy," he said. "Some of you guys have nothing but hate in your heart; I am so sorry for y'all."
Today, Porsche and Till are happily married and in October 2017, their twin boys, August and Berlin, became the newest cast members of the hit ABC series, "Black-ish." They play the role of DeVante, the youngest Johnson child.
Please fill in your e-mail so we can share with you our top stories!