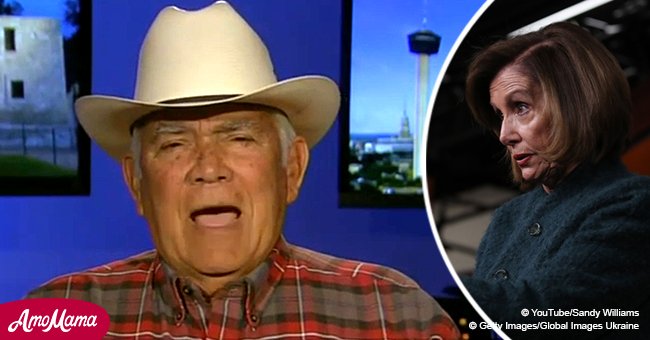 Texas rancher offers his land to build a border wall telling Pelosi, 'We need that wall'
A 75-year-old 7th-generation rancher pleads for a wall and is willing to sacrifice his property to the federal government.
Ruperto Escobar told Fox News that he "has suffered a lifetime of harm due to illegal immigration" and drug trafficking.
He claims that illegal immigrants cross his property, and even though it's "not so prominent" anymore, he has seen vehicles "packed with drugs" passing through his property.
Escobar added: "These individuals park their loaded Suburbans [...] right by the bank of the Rio Grande, jump in the water, off they go. They leave everything there."
In response to House Speaker Rep. Nancy Pelosi – who said erecting a border wall is immoral – Escobar said the "trampling of his fence" is immoral.
"I say, ma'am, I don't know where you get your facts but from what we have endured, my lifetime, which is about 75 years now of seeing the number of illegals coming across here trampling over our fences the drug dealers tearing down our gates. That is immoral. And, we're tired of it. We need that wall."
GOVERNMENT SHUTDOWN ENTERING 34TH DAY
The United States of America has entered its 34th day of the Government shutdown. There is still no breakthrough in sight.
The House of Representatives passed similar bills in the past, but President Trump has rejected legislation that does not include border wall funding.
President Trump said he would keep the shutdown going until his $5.7 billion plan for a border is approved by Democrats in Congress.
Democrats, in turn, said they would not trade a temporary restoration of the immigrants' protections from deportation in return for a permanent border wall they view as ineffective.
As the government shutdown drags on, hundreds of thousands of federal workers are struggling to make ends meet.
It even means hard times ahead from Melania Trump, as it put a damper on her Be Best campaign. It's currently the longest shutdown in the history of the United States.
President Trump began a campaign called "Send A Brick To Congress." He urges citizens to send the wall, one brick at a time, to Nancy Pelosi.
Please fill in your e-mail so we can share with you our top stories!