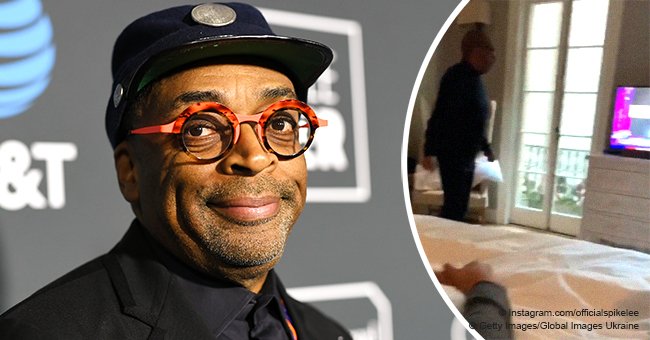 Spike Lee jumps for joy after receiving his first-ever Best Director Oscar nomination
Spike Lee and his family went wild after learning he was nominated in the Oscars for best director for his film "The BLacKkKlansman." This is the first time the filmmaker was recognized by the award-giving body in the category.
There's nothing sweeter than being recognized by the most prestigious award-giving body for film and Spike Lee knows that. After the announcement of his nomination for best director, the 61-year-old filmmaker jumped for joy.
Lee earned his first Academy Award nomination as director for the film "BlacKkKlansman," a true story about a police officer who infiltrated a Ku Klux Klan in Colorado with the help of a Jewish surrogate. The film also scored five other nominations including best picture and best adapted screenplay.
LEARNING THE NEWS
Lee was home with his family when he learned the news. His son, Jackson Lee capture the moment on video. The celebrated filmmaker was in his bedroom standing in front of the television as his wife and kids waited in suspense for the nominations while sitting on the bed.
When Lee's name was read, the director jumped up and down as his son screamed and his wife and daughter clapped in delight.
Later, Lee shared the clip on Instagram and wrote,
"Da Happy Lee's This Morning. FINALLY."
Lee will be up against fellow best director nominees Alfonso Cuaron for "Roma," Yorgos Lanthimos for "The Favourite," Adam McKay for "Vice," and Pawel Pawlikowski for "Cold War."
This is his third Oscar nomination. In 1990, he earned a nod for writing the screenplay of "Do the Right Thing." In 1998, he was nominated for best documentary feature for "4 Little Girls."
ANOTHER FIRST IN OSCAR HISTORY
This year's Oscars boasts of many firsts including the historical nomination of the film "Black Panther" for best picture. The Marvel movie marks the first superhero film to ever be nominated for an Academy Award. It also earned nods for six categories including costume design, original score, sound editing, production design, and sound mixing.
"BlacKkKlansman" and "Black Panther" will be up against "Vice," "Green Book," "The Favourite," "Bohemian Rhapsody," "A Star is Born," and "Roma."
A SURPRISE SNUB
Surprisingly, Clint Eastwood's comeback film after six years didn't make the cut. The actor's film "The Mule" was well received by movie-goers and expected to be Oscar-worthy but didn't get any nominations. Regardless, it made a box office killing earning $102.9 million with a budget of $50 million.
Please fill in your e-mail so we can share with you our top stories!