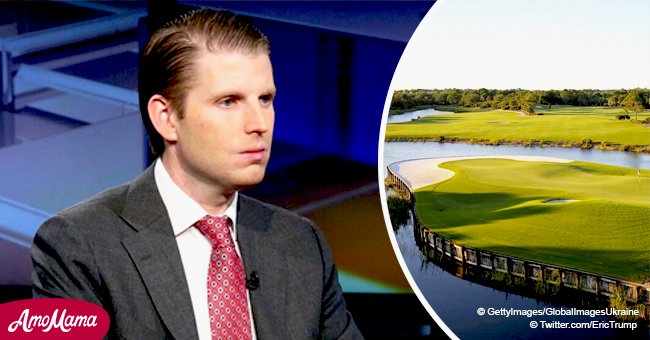 Eric Trump posts beautiful view of Trump National Golf Club amid shutdown, sparks backlash
On Thursday, President Donald Trump's son Eric took to Twitter to share a beautiful image of the Trump National Golf Club. Many of his followers liked the image, but a few were not very pleased with the post.
Last December, President Donald Trump plunged the country into a partial federal government shutdown by refusing to sign off on the nation's spending if it didn't include funding for a border wall.
Many US citizens were not happy with the Trump family as a whole and felt that it was an inappropriate photo to share amidst the longest running shutdown ever.
The president wants $5,7 billion to build a wall between the US and Mexico. However, Democrats who have taken control of Congress have refused his demands.
The shutdown has been going on for 34 days with 800,000 federal employees being furloughed and 400,000 working without pay.
So it comes as no surprise that when Eric Trump posted a serene and gorgeous image of the Trump National Golf Club, some of his followers became upset.
His actions, to them, seemed to disregard the burden his father was placing on many families who couldn't afford food; let alone, a golfing trip.
Eric's photo showed the vast area of the golf course with green grass and a pond/lake. A follower named Jonathan Ellis posted: "Unbelievable. So in touch with the people (sarcasm)"
On Monday, his wife Lara Trump appeared on Bold TV where she addressed the struggles that federal workers were undergoing:
"I know it's hard, I know they have bills to pay, they have mortgages, they have rents that are due, but the president is trying every single day to come up with a good solution here and the reality is it's been something that has gone on for too long and gone unaddressed."
Supporting her husband's father she added:
"I would just tell them, please stay strong, we appreciate everything that you're sacrificing, we're behind you and we are going to do everything that we can, I know the president is doing everything he can to resolve this quickly."
A recent survey by the Government Business Council and GovExec.com revealed that 7 in 10 federal employees were against the shutdown. Only about 30 percent of them actually supported a border wall being built.
On Thursday, the Senate rejected a proposal to reopen the government for three weeks while a plan is made to resolve the stalemate between Democrats and the president.
However, the motion failed and the president might end up declaring a national emergency to get his way.
Please fill in your e-mail so we can share with you our top stories!