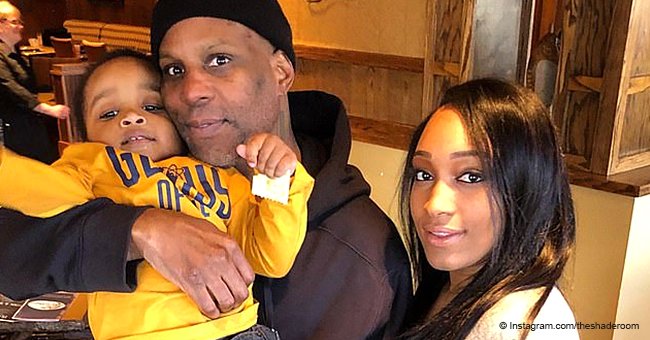 DMX cuddles up to his fiancée and son in 1st photo after serving prison sentence for tax evasion

DMX is a new man following his release from prison as revealed in his first family photo post-incarceration.
Following his release from prison, DMX's first order of business was a photo op with his family.
The rapper who was convicted for tax evasion and served one year in prison was released on January 25 and is now a free man. That means he gets to spend as much time with his family which is the first thing he did.
He reportedly had breakfast with his fiancé Desiree Lindstrom and their two-year-old son, Exodus. The reunion was immortalized in a photo, his first since stepping outside the walls of Gilmer Federal Correctional Institution in West Virginia. In the pic, he looked like a brand new man holding his son's face close to his as he stood next to Lindstrom.
DETAILS SURROUNDING HIS RELEASE
DMX (real name Earl Simmons) was released two days ahead of his actual release date on January 27. This is due to the prison policy where an earlier date is applied when the release date falls on a weekend.
As part of the conditions of his freedom, the 48-year-old is expected to return the $2.3 million he owes the government with a payment plan that would allow him to gradually settle his debt. He will also have to participate in outpatient programs for substance abuse and mental health while under supervision for the next three years.
CAREER PLANS
Apart from his post-prison responsibilities, the father-of-15 is reportedly poised to go back to work. He's expected to drop a new album as well as work on a biopic and a book, negotiations of which began while he was still in prison.
HIS CONTROVERSIAL THROWBACK INTERVIEW
Prior to his release, DMX's name was dragged into the controversy surrounding R. Kelly. An old interview of the rapper was unearthed proving he was witness to Kelly's exploit with a minor.
Kelly has been accused of several sexually charged crimes and is now facing a ton of criticism especially after the release of the docu-series "Surviving R. Kelly." The singer has repeatedly denied the alleged abuses and no formal charges have been made against him.
Please fill in your e-mail so we can share with you our top stories!