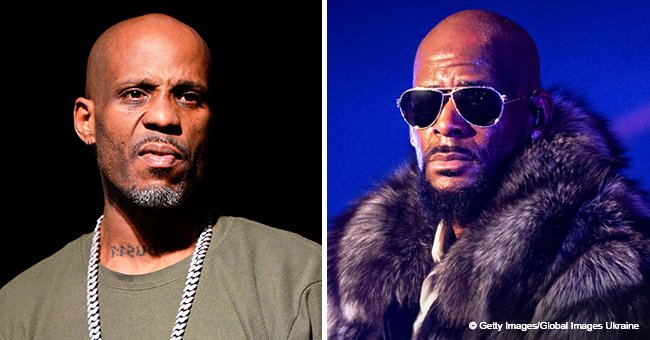 Throwback DMX interview claims he caught R. Kelly locked in a room with a minor
More proof of R. Kelly's alleged sins against minors are emerging, the latest of which is a 2009 interview of DMX revealing he caught the troubled singer with a minor.
Footage of DMX in an interview with DJ Whoo Kid a decade ago reveals the rapper had been a witness to Kelly's exploits with minors at the time.
In the interview, DMX claims Kelly was supposed to meet him at a studio to record a song but disappointed him when the singer failed to show up and gave him a lame excuse while speaking to him through a small crack in the door of a room downstairs.
Feeling disrespected, DMX said he slammed Kelly for not having the guts to tell him face to face.
"He had to talk through a crack in the door because he's in there with a minor!,"
MORE PROOF THAT HE MARRIED A SINGER WHO WAS A MINOR
The throwback footage comes in the heels of other an unearthed footage that seemed to corroborate controversial sexual assault allegations against Kelly that were rehashed by the release of the docu-series "Surviving R. Kelly."
One of the issues that were fired at the singer was that of the late singer Aaliyah who was a minor at 15 when he married her in 1995. Kelly's lawyer, Steven Greenberg insisted his client had no knowledge she was a minor and that Aaliyah lied about her age to him.
However, a video of R. Kelly from 1994 resurfaced proving that he knew Aaliyah's age at the time. In the clip taken a year before he married her and where he proudly shared he was producing a song for the young singer, he says,
"Right now I'm producing a very talented lady -- a young lady. She's 14, Aaliyah. She's real street."
THE AFTERMATH OF THE DOCU-SERIES
More and more details are fanning the heat towards Kelly's camp following the release of the docuseries that exposed his sins to the world. The singer was reportedly hospitalized due to panic attacks stemming from the outpour of hate from the public spawned by the expose.
His lawyer, however, maintains Kelly's is his "easiest client". He's confident the singer will not be charged "because he didn't do anything wrong."
Please fill in your e-mail so we can share with you our top stories!