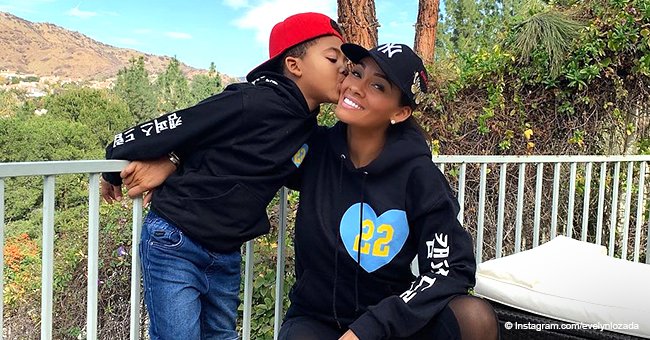 'RHOA's Evelyn Lozada under fire for letting her son pray on camera

"Real Housewives of Atlanta" star Evelyn Lozada was heavily slammed after letting her son pray on camera. People made sure to let her know how disappointed they are of her, as this was hypocritical on her end.
On Instagram, the mom proudly filmed her son, Carl Leo Crawford Jr., praying. He began saying his prayer, first expressing how much he loved their God. He then asked for a blessing for the homeless, and for the world to be a better place to live in.
The video, which saw the mother-and-son duo lying down on a bed as they covered their face in filters, was critiqued by people who claimed prayer was supposed to be between a man and God, and it was not something that was supposed to be shared online for "likes".
"Prayer should be in private via you and the Lord," one critic said. "But she is doing it for the world to see. The Bible speaks of this (sic) type of hypocrites!"
"Only Christians play with God like this. Muslims would never allow their prayer to be mocked like this. Flexing with God isn't cool, celeb or not."
Since being posted on the internet, the video has gotten more than 160 thousand views. Of course, although people began hating on Evelyn for the way he filmed her son, there were also a lot who flocked to show their support and let her know that there was nothing wrong with what she did.
@noirperfection: Keep praying Leo. Show the world the power of God."
"@knunya36: Bless his precious heart! "As the Lord says, "From the mouth of babies you you have perfected praise!"
Carl Leo is Evelyn's most prized possession, and it comes with no surprise that she shares even his most simple gestures with her fans. In fact, it's clear that there was no harm meant to come from the innocent video of her son praying, as it seems goodness is really in his nature.
Recently, Evelyn and her ex-boyfriend Carl Crawford got together to pay tribute to their son for being the "Star of the Week" at school. The proud parents, who are still friends despite their separation, posed beside their son who looked happy to be around both his parents at the same time.
Due to their fame, celebrities often get a ton of criticism because of the way their lives are exposed to the public. However, at the end of the day, what makes a good public figure is the way they react to such criticism, and whether they succumb to the hate or allow themselves to grow from it.
Please fill in your e-mail so we can share with you our top stories!