Teddy Riley's daughter Nia hints that ex Soulja Boy was abusive after he goes public with new lady
Nia Riley reveals she's moved on from her ex-boyfriend Soulja Boy who she also claims abused her physically and mentally. Her comments emerged after news of his new flame broke.
Nia Riley has opened up about her abusive relationship with her ex-boyfriend Soulja Boy after he flaunted his new woman to the world. 
The Arguing Continues! Soulja Boy and Nia Riley Continue To Clash and Throw Shots at one another #MarriageBootCamp #HipHopEdition [VIDEO] https://t.co/nRxRrR5pgS pic.twitter.com/Ov9PAFbEZG

— Hip-HopVibe.com (@HipHopVibe1) January 26, 2019
Riley shared a cryptic message on her Instagram story in response to the recent events that confirm Soulja has moved on from her. In the message that has now been deleted, the daughter of Teddy Riley claims she's fine but alleges that she suffered mental and physical abuse in the hands of Soulja during their 10-year-relationship. 
"I'm doing fine. I think I've endured enough physical and mental abuse to be over that situation. But thanks."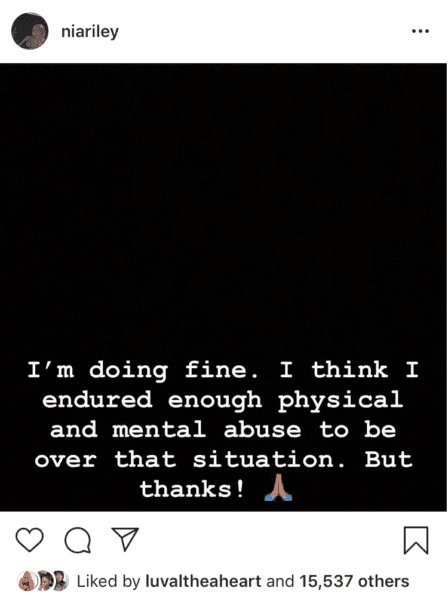 HER RESPONSES TO FANS' COMMENTS
Fans were quick to comment below her post acknowledging the long time Nia wasted with Soulja and the healing she would have to go through. 
"10 years smh it will probably take half that to heal and truly be over it sigh that's usually how it plays out but praying for you and a more positive loving relationship moving forward . He out there!" 
However, Nia insisted she has "happily healed and moved on."
Nia also slammed a commenter who seemed to judge her for wasting her time with Soulja. When the person wrote, "Damn, it took ALL THIS TIME? What a waste…of your time hun." she snapped back with, 
"you're also part of the reason people never speak up."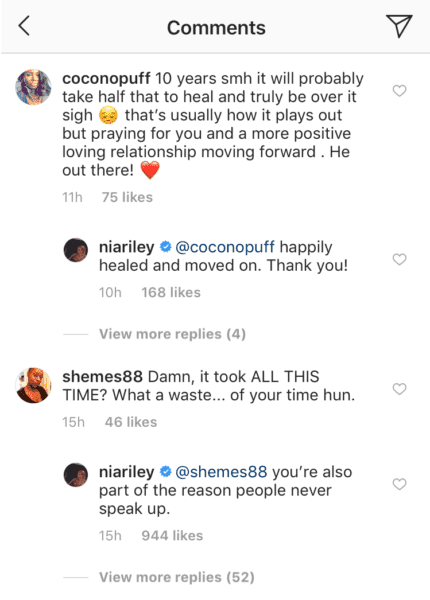 THE NEW WOMEN IN SOULJA'S LIFE
Concern for Nia's healing heightened when Soulja went public with his fondness for two women. The first was Meghan James of "Basketball Wives." He told the hosts of "Big Boy's Neighborhood" radio show that he was in love with the "beautiful" woman. 
"I'm in love right now…she's just beautiful, bruh. She's just fine. I'm like, 'D*mn.' I worked my whole career to get her, you know what I'm sayin'? I need her…she know who she is!" 
He would later share a video on his Instagram where he's flirting with the "Bad Girls Club" alum. 
However, the tides turned when another woman emerged on his Instagram story. It was model Tiona Fernan dressed in a skimpy bikini and captioned "The only girl I want." Much later, he posted another photo of her and wrote, "I love you @xttiona"
It appeared like Tiona reciprocated when she added Soulja's handle in her bio and included heart emojis, proof that they were now a couple.
Soulja Boy's Falling For This IG Vixen: "I Love You" – https://t.co/3QR2tSUNOR https://t.co/vxDpkKVxfp

— Soulja Boy (Big Draco) (@souljaboy) January 29, 2019
GLIMPSES INTO NIA AND SOULJA'S ABUSIVE RELATIONSHIP
Nia and Soulja had an on-and-off relationship that spanned 10 years. While it was quite shocking when she revealed the abuse she suffered, there was an episode on "Marriage Booth Camp: Hip Hop Edition" when fans saw a glimpse of it. During the said episode, Soulja threatened Nia with physical violence in a bout of jealousy. He also lost it when he didn't bring her breakfast. When they were forced to share the same pants, he made her wash the dishes while he repeatedly annoyed her. He was so obnoxious that he was penalized by the judge and was asked to cook breakfast the next morning. 
Nia is one of eight children of Teddy Riley. She has a 5-year-old daughter, Kamryn Riley who looks just like her. The little girl's father's identity remains undisclosed but many suspect it's Soulja.