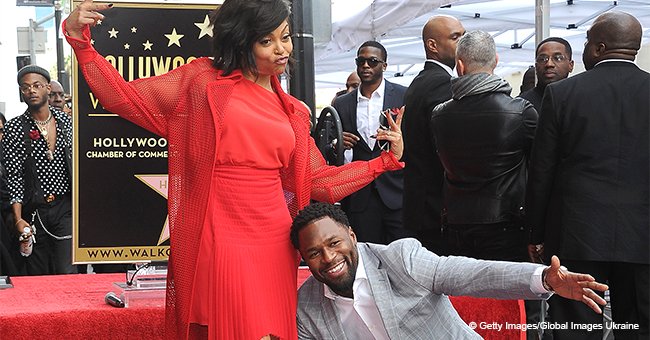 Taraji P. Henson's fiancé proudly poses by her side as she receives star on Hollywood Walk of Fame
Taraji P. Henson finally got her own Hollywood Walk of Fame star, and her fiance proudly posed beside her to celebrate her special moment.
Oscar and Emmy-nominated actress Taraji P. Henson is the latest celebrity to be awarded her own star on the Hollywood Walk of Fame, an honor that up until now, she describes as "surreal."
Henson worked her way up until she was able to achieve her dreams, and according to her, getting her own star confirms that regardless of where you came from, anything is possible.
"I want to say to all of the little brown babies all over the world, 'Look at me and see you.' I was a single mom, raised by a single mom and lived in the hood. I never focused on my circumstances. I focused on my dream and looked at God. The Hollywood Walk of Fame is a journey through history and today my legacy will be forever etched in the history of Hollywood. I've worked so hard for this. It's surreal."
Taraji, someone who once just strolled along the Hollywood Walk of Fame to see the different names imprinted on them, only used to daydream about this moment. Now that she has her own name imprinted there forever, she recalled about the time she knelt down to put her hands on the Bette Davis star.
"One day, I literally kneeled down and put my hands inside of Bette Davis' star. I've always admired her talent, then I got up, brushed off my jeans and said, 'One day my name will be cemented in this town. I grabbed my son's hand and as I walked away I could feel it, one day."
A good 58 years after Bette Davis' stars were completed, Henson finally has her own, on the same block as Davis' star for her movie work, and on the same side of the street, but a block away, from the star, Davis received for her TV work.
Henson is best known for her role on the hit show "Empire", but she has completed numerous movies including the coming-of-age hood film "Baby Boy", 2005 crime drama "Four Brothers", and "It's Hard Out Here for a Pimp."
Please fill in your e-mail so we can share with you our top stories!