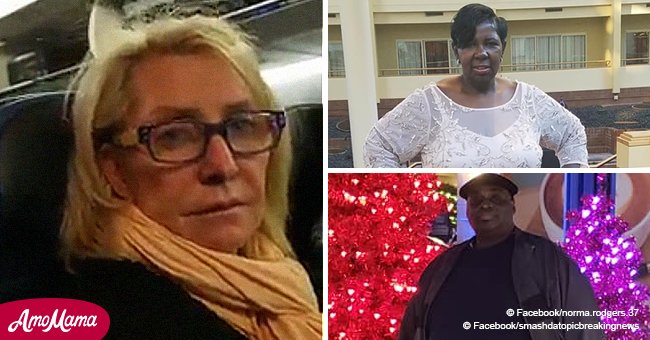 Rude flyer complains she's stuck between 'two big pigs' in an epic fat-shaming tantrum
A woman got kicked off a United Airlines flight after she fat-shamed two passengers and caused a scene before takeoff.
The unnamed Caucasian women failed to get comfortable prior to takeoff on a flight from Las Vegas to Newark on January 2, and loudly complained over the phone that she got stuck between two "big" passengers.
Norma Rodger, a registered nurse from New Jersey, sat next to the woman by the window and flanked by a man named Mac in the aisle seat. It didn't take long for the verbal abuse from the unnamed woman to escalate as she told the person on the other end of the phone line:
"Oh my goodness! I don't know how I'm going to do this for the next four hours!"
The woman's rant got filmed by Norma, which she posted on Facebook, and have since gone viral. Continuing her rant over the phone, the woman added:
"This is just impossible 'cause they're squishing me. Like, just unbelievable. At least they'll keep me warm. I can't sit here because they're both so big on left and right. I can't even sit here."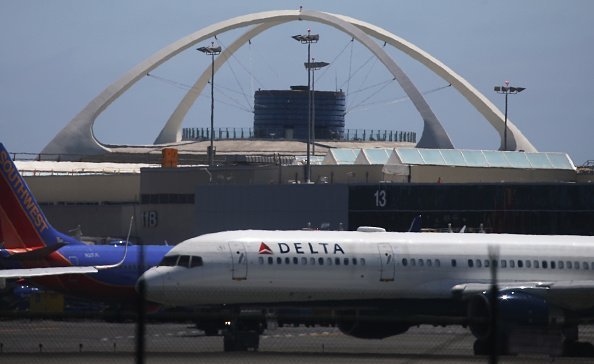 A Delta plane taxis at Los Angeles International Airport on July 12, 2018, in Los Angeles, California. | Photo: Getty Images
Finally, Norma had enough of the woman's abusive behavior and snapped at her, " ****, please! OK?" Having had as much of the abuse as she can handle, Norma called a flight attendant and asked for help:
"Excuse me, can you find her another seat? Because I will not be verbally abused by this **** or anybody else. I will not be verbally abused by anybody. I'm not tolerating it. I am not starting my new year off with this kind of negativity."
Having previously failed to find the woman another seat, the crew member asked the woman if she could wait in the rear of the plane so she could check for another available seat, as things were escalating quickly.
But other passengers soon voiced their opinions as the woman moved out of her seat towards the back of the plane, as one said:
"You should be ashamed of yourself, madam. What you're doing is so terrible, you should be ashamed of yourself."
Hitting back at the other passenger the woman replied:
"I'm not politically correct," the woman says. "Why don't you try and sit between those two big pigs?"
Since Norma posted the video to Facebook, it got viewed 2.7 million times, and the passengers on the plane were grateful when the airline workers escorted the woman off the plane.
Afterward, Norma expressed her gratitude toward the flight crew as she wrote on Facebook:
"I would like to say thank you to the flight attendants, supervisor and gate agent that handled the situation professionally and calmly. Thank you for addressing the issue immediately and not letting it escalate any further."
Robert Einhorn, a spokesperson for United Airlines, told The Post in a statement:
"United flight attendants care about the safety and well-being of all of our customers which is why they acted quickly to find a different seat for the disruptive customer. When it became clear that this passenger's behavior was likely to be problematic on this flight, she was provided alternate travel arrangements first thing the next morning."
A similar situation played off on another Delta Airlines Flight from JFK Airport to Hancock Airport. A US government employee, Susan Peirez got unreasonable and cussed at a fellow passenger and flight attendant and threatened to get her fired.
The incident took place because of Marissa Rundell's crying son, as Marissa elaborated afterward:
"She came to the back and slammed her bags down. She said 'this is **** ridiculous. It's **** having to sit in the back of the plane.'"
When matters escalated, a flight attendant, Tabitha, tried to sort matters out, but Susan then directed her rant towards Tabitha as she threatened her, "You may not have a job tomorrow."
Additional personnel got called to remove Susan off the plane, and Susan ended up losing her job over her behavior, as video footage of the incident got posted by Marissa, and came under the eyes of her shocked superiors.
During another unacceptable passenger tirade, but with a different outcome, a man aboard a Ryanair flight from Barcelona to Stansted, near London did not suffer the consequences other passengers thought fair.
The man got racially abusive when a black woman sat down one seat apart from him, much to the shock of other passengers on the plane.
Instead of kicking the man off the plane like many other people on the plane requested, the lady got moved to another seat in a different area on the plane, and the man remained on board.
Please fill in your e-mail so we can share with you our top stories!