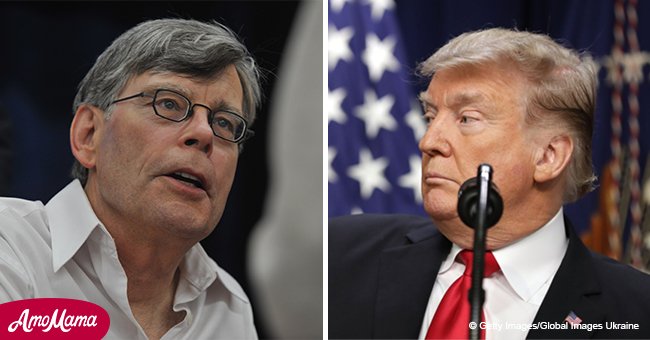 Stephen King asks Republicans if they know allying with dirty guys means 'you're dirty yourself'
Best-selling author, Stephen King took to social media to ask Republicans if they know that by allying with dirty politicians indicates they're "dirty" too.
Stephen King used Roger Stone's arrest to make a statement to the president's supporters. The author said the arrest on Friday of Roger Stone should make bring to light the kind of allies Republicans had.
Stone is a longtime associate of President Donald Trump. Stone served briefly as a Trump campaign aide in 2015.
He remained as an informal adviser after the campaign. Now he has been charged with seven counts including lying, obstruction of an official proceeding and witness tampering.
Stone is just one of the many people indicted in connection with the Robert Mueller investigation. The investigation opened up a can of worms and saw guilty pleas from former Trump attorney Michael Cohen, former Trump campaign chair Paul Manafort, and former Trump national security adviser Michael Flynn, among others.
The events that are unfolding led to King's question for Trump supporters. He took to Twitter to ask them an important question.
"Another Trump insider appears bound for the old (Roger)stone hotel. How long before Trump supporters realize that you don't surround yourself with dirty guys unless you're dirty yourself?" tweeted King.
King has openly critiqued the President of the United States on Twitter. He was even blocked by the president on the social network as a result of his comments.
"I might've said he had his head somewhere where a certain yoga position would be necessary to get it there," King said to Stephen Colbert in an interview. "And that was it, man."
King doesn't only pick on the president. Last year he was slammed for joking about the First Lady, Melania Trump's kidney surgery.
The author ignited debate after he made a joke about Melania Trump's hospital stay following kidney surgery. He had once again taken to Twitter to share his views.
"Not to be snarky, but Melania can probably use a week's rest from Blabbermouth Don. Sounds heavenly to me." tweeted King.
Please fill in your e-mail so we can share with you our top stories!