13-year-old skater stuns judges with her flawless routine, taking first place
During the weekend, a tiny skater made history during the US National Figure Skating Championships in Detroit.
Alysa Liu at thirteen years of age became the youngest skater in the world to finish first in the women's division of the national championships, dethroning Tara Lipinski, who won the tournament at 14.
The pint-sized skater broke more records as she stepped onto the ice to perform a flawless routine. She landed two triple axels in one routine and completed notoriously difficult jumps that included taking off backward and spinning several times before landing on the opposite foot.
With her groundbreaking routine, the 4'7" skater became the 4th female American to ever land a triple axel in competition, never mind two, and joined the elite club along with legends Tonya Harding, Mirai Nagasu and Kimmie Meissner.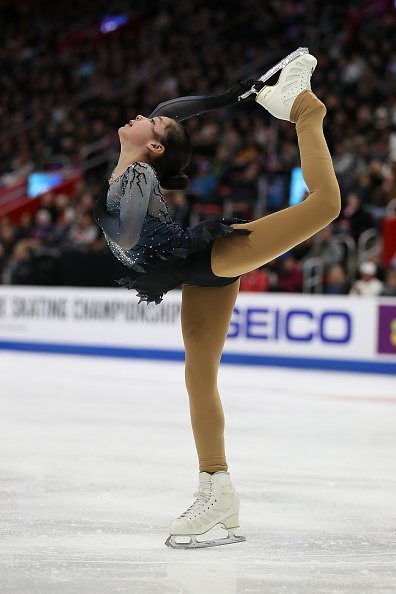 As being the only one in the world who can boast with successfully landing two triple axels in one routine, she modestly said afterward:
"I am kind of out of it right now. It's not fully sunk in yet; I am not thinking about anything I just did."
Later on when the reality began to sink in Liu remained focussed on her personal goals rather than her fantastic achievement as she told an ESPN reporter:
"I was just happy that I beat my personal record, and I did a clean long program."
Ironically, the same thing that made her performance so impressive is the same thing that will keep her from world championship competitions — Liu's age. The minimum age for competitors is 15 years or older, so 13-year-old Liu will have to wait another two years to compete.
According to Liu this is not a drawback and will give her "more time to work on my jumps, skating skills, spins, and just trying to learn more."
By the time the 2022 Olympics in Beijing comes to pass, Liu will be old enough at the age of 16 to compete, and with her already breaking records at the age of 13, imagine what standard she would set in three years.
Liu first set foot on the ice at the age of five, when her father, Arthur, brought her to the ice rink. A few months later, Laura Lipetsky started training her, while her choreographer, Cindy Stuart, began working with her shortly after.
The youngster competed in her first competition as a juvenile in 2015, followed by the US Championships the following year. Even then she broke records, as she became the youngest lady to win the intermediate gold medal, by less than a point.
During the 2017 US Championships Liu placed fourth in the novice category, followed by another gold at the 2018 Asian Open Trophy in Bangkok, Thailand in August 2018.
Congratulations to Alysa Liu on her outstanding achievements!
On a related note, a 26-year-old figure skater from Arcadia, California may not have broken any records, but she moved spectators with her amazing routine to 'Hallelujah.'
At the 2010 Funakoshi Trophy's Los Angeles Showcase in Burbank, Taryn Jurgensen, who was 18 years old at the time, stepped onto the ice for a performance that left the spectators speechless.