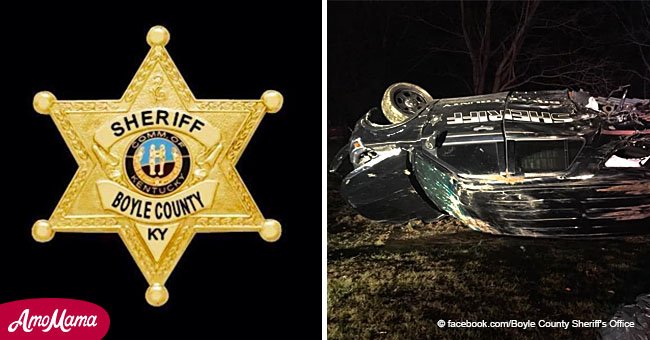 Two teens threw a 10 lb stone at the windscreen of a passing sheriff's car, causing it to crash

A sheriff almost lost his life after two teenagers hurled a 10 lb rock through his windshield, causing him to crash.
Boyle Country Deputy Philip Dean was hit in the face by the rock on Sunday, January 27, 2019, while driving down Lexington Road, in the Old Bridge Area.
Fortunately, the Boyle County Sheriff's Office managed to capture the perpetrators, who are currently under arrest.
ATTACKED OUT OF NOWHERE
Deputy Dean was responding to a report that someone was throwing rocks at semi-trucks in the area when the object was thrown from an oncoming vehicle.
According to Sheriff Derek Robbins, Officer Dean is lucky to be alive.
According to the authorities, the rock smashed the windshield and hit Dean, who lost control of the vehicle and left the roadway, colliding with trees along the way before rolling over several times.
EXPECTED TO MAKE A FULL RECOVERY
The police officer was able to regain consciousness after the crash and call for help. He is currently recovering at home, having suffered a broken nose, as well as cuts and bruises.
Thanks to footage captured by a surveillance camera and several tips from the public, the police was able to identify the suspects, whose names are yet to be revealed.
THE CHARGES
The 17-year-olds' future is now in the hands of the Prosecutors, who will have to decide whether they will be charged as adults or juveniles.
They are reportedly accused of first-degree assault of a police officer, fleeing the scene of a wreck, criminal mischief and failing to render aid. According to Sheriff Derek Robbins, Officer Dean is lucky to be alive.
Given the speed of both cars, the rock hit the windshield at around 100 mph, and had it the right spot, Officer Dean could have died, while the teens fled the scene without turning back.
But this wasn't the first time a couple of young men left a victim fighting for his life. In Auburn, Washington, two teenagers witnessed a gas station clerk, named Zarif Kalede, suffer a heart attack and collapse to the floor.
Instead of dialing 911, the youngsters stole cigarettes and $178 from the cash register, stepping over the clerk on their way in and out of the station. Fortunately, a customer arrived three minutes later and called for help.
Kalede was taken to the hospital and the youngsters, a 13-year-old and a 17-year-old, were later identified, arrested and booked in the King County Juvenile Detention Center.
Please fill in your e-mail so we can share with you our top stories!