Paris Jackson reveals huge new rock-inspired tattoos adding it to her 50+ other bizarre inks
Paris Jackson is no stranger to the limelight, but instead of shrinking away from it, she has become more open on her own social media pages to leave nothing for the press to speculate about.
It was recently reported that Paris Jackson had entered a treatment facility to take care of her emotional well being and she posted about it with a picture of her dog, saying:
"Yes I've taken a break from work and social media and my phone because it can be too much sometimes, and everyone deserves a break, but I am happy and healthy and feeling better than ever!"
The 20-year-old daughter of Michael Jackson came back to Twitter after the break to show off a large arm tattoo in honor of Led Zeppelin's fourth album.
The symbols she had inked were featured on Led Zeppelin's fourth untitled album cover, and each symbol is said to mean something for each of the band members.
"Was planning for a few months on just getting zoso but then I said f**k it and"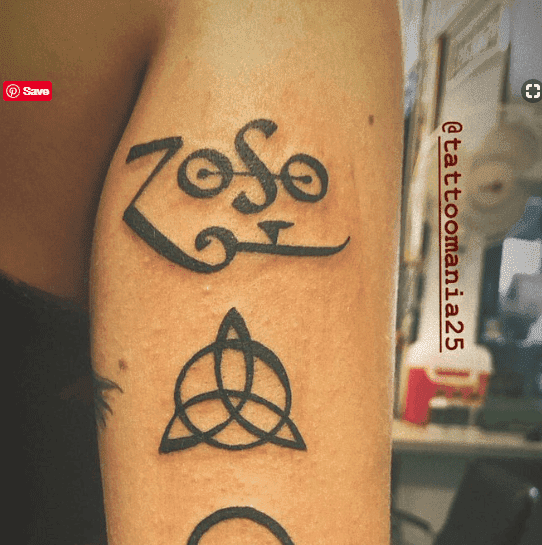 Paris Jackson has come a long way from Neverland. Her controversial dad fashioned himself after Peter Pan and called her his Tinker Bell. To honor him, she has "FAITH, TRUST AND PIXIE DUST" tattooed near her clavicle.
She also has art from the Dangerous cover on her forearm, wears the Bad logo on her hand, and has her father's handwritten words "QUEEN OF MY HEART" inked on her inner left wrist, saying:
"He's brought me nothing but joy. So why not have constant reminders of joy?"
Jackson also has body art in honor of John Lennon, David Bowie, Prince, and Van Halen. Her inner lip boasts the word "MÖTLEY." 
Michael's only daughter still wears the rope-and-jade bracelet he had on the day he died, saying it still smells like him. He bought it in Africa and her nanny was quick to retrieve it for her after his passing.
Almost a decade since her father's death, Paris Jackson has come out the other side after three suicide attempts and battles with depression and drug addiction.
Many of her tattoos reportedly hide the evidence of track marks from extensive drug abuse, and she also recently revealed her sexual assault at age 14 by a "complete stranger."
The world has been watching her since she was born, and will no doubt continue to watch her until she dies. Paris is quickly making a name for herself as a model because what better way to choose how you want to be seen publicly?